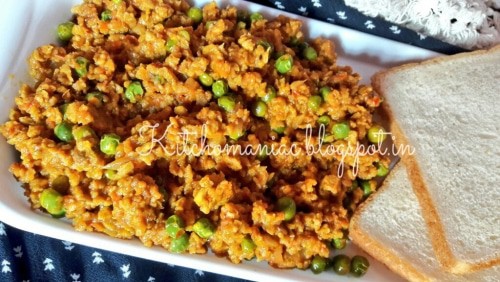 Makhani Keema Matar
This is a total vegetarian dish but for non veg lovers its gives a close taste to your non veg keema!These are soya granules cooked in thick creamy gravy. Soya is rich in protein as it improves the hair growth and gives a good volume!Soya is also very good for growing children but kids normally don't like to eat this,but this type of make of granules your kids are going to love this because its tangy,spicy and creamy. This makhani keema matar you can enjoy this with hot parantha or easy bread 🙂 The thick gravy just got absorbed in the soya and when you take a bite it gives a succulent creamy taste . Soya comes in chunk form also but i find granules more tasty and with the combination of peas i just love it... So no more wait for this yummy recipe -
Ingredients
Onions - 2 medium sized

grinded

Tomatoes - 3 to 4 medium sized

grinded

Peas - 150 grams

Garlic - 1/2 pod

finely chopped

Refined vegetable oil - 2 tbsp

Cumin seeds - 1 tsp

Salt as per taste

Coriander powder-1 tsp

Mango powder- 1 tsp

Turmeric powder - 1/2 tsp

Red chili powder - 1 tsp

as per your taste

Sugar - 1/2 tsp

Milk - 1 cup

small one

Fresh Malai or cream - 2 tbsp
Instructions
Take a wok add oil and heat it up. Add cumin seed and garlic in it. Now stir it for few minutes. Now add onion paste in the oil and stir it till it changes its color.

After that add peas in it.Roast it well with masala. Add half cup of water in it. Stir it till the gravy becomes little thick.

Now add some milk in the gravy. Then add fresh malai in it. Wait for a nice boil. Now in the last when you will find the gravy has cooked up add soya granuels in the gravy.

Now stir the gravy till it gets absorbed in the granules. Enjoy it with paranthas or bread.