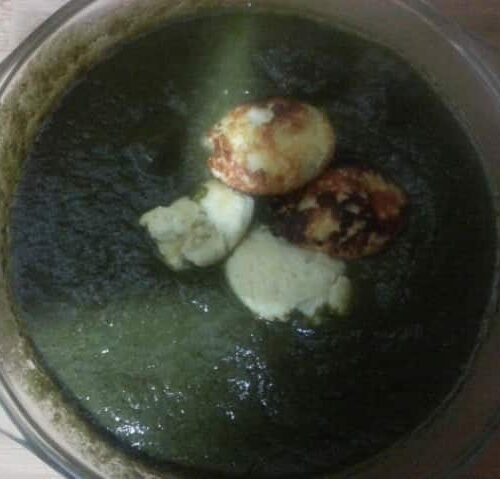 Lemon Paneer Appa With Thai Green Curry
30 March, 2016
I develop this recipe To make Palak kofta Thai. Lemon paneer Appa very yummy And give very fresh flavour. With health, there is a new blend - Palak, Appa and Thai green curry.
Ingredients
For Paneer Appa: Paneer : 250gms

For Paneer Appa: Paneer : 250gms

Lemon juice -1/2 lemon

Salt: as per taste

For Thai Green Curry: Lemon grass: 2 stalks

Lemon wedges : 1/2tbsp

Lemon juice : 1/2 tbsp

Garlic : 4

Green chilli: 5-6

Ginger: ½ inch

For Palak gravy:

Palak: 250gms

Onion: 1medium size

Tomato: 1 medium size

Ginger: ½ inch

Coconut milk: ½ cup

Thai Tomato chilli sauce: 1tbsp
Instructions
Mix all the ingredients of Thai green curry and grind it into a fine paste and keep it aside.

Chop Palak, onion, tomato and ginger and boil them together. Let it be cool and grind it into a paste.

Mix all the ingredients for Appa and incorporate in such a way that it becomes dough.Divide dough into equal 12-15 balls. Now take Appa pan and apply oil.

Put all the balls into each circular mould and cover the lid.

Check it after 7-10 minutes and turn

Now Take a wok , put some oil, add Palak paste and sauté it for 5 minutes. Then add Thai green paste.

Add salt to taste,coconut milk and Thai tomato chilly sauce.

Now add paneer lemon Appa.

Cook it for next 5 minutes.

Then serve it with noodles, rice or even with all types of bread.
Notes
One can serve paneer Appa as snacks also. It is very very yummy.