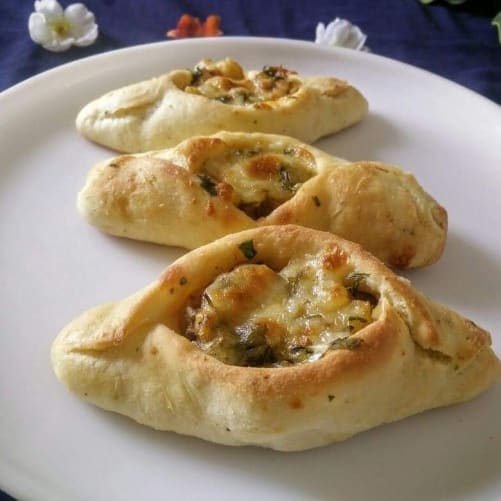 Cheese Fatayer Bread
Cheese fatayer or cheese pies are popular arabic pastries. You find them in bakeries, school cafeterias, cafeand pastry shops.They make a great start of the day or a wonderful companion for the afternoon tea.These arabic cheese pastries are great portable snacks or impressive pastry appetizers if you make
Ingredients
1/2

kg

of pizza dough

1/2

cup

shredded mozzarella

1/2

cup

of crumbled feta

2

tbsp

chopped fresh parsley

a dash of nutmeg

1

tsp.

nigella seeds

optional

2

tbsp

milk or butter to brush the fatayer.
Instructions
Defrost the pizza dough.Preheat your oven to 180°C. Line a baking sheet with parchment paper.

In a bowl combine the feta, mozzarella, parsley and nutmeg. Crush with a spoon to break down the chunks of feta. You almost want the mixture to look like a very thick paste.

On a floured surface knead the dough until it is elastic. Roll into a log and cut into ten pieces.

Roll each ball and set aside covered.Roll out each ball into an oval shape and place about 2 tablespoons of filling down the center of the dough.

Fold over the top left of the dough over the filling and press down. Fold over the opposite side over the folded sided and pinch.

Repeat the process at the bottom of the pastry. Brush with milk and place on parchment paper on cookie sheet. Sprinkle with nigella seeds.

Repeat process until all fatayers have been made.Bake at 180°C for 10 - 15 minutes or until golden brown.