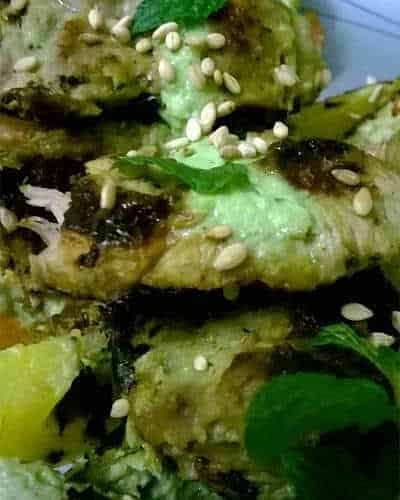 Lamb Tawa Tikka
4 April, 2017
Its been long that I have posted either on Plattershare or my blog because I am blessed with a baby boy & I was very busy in taking care of him. When I received a call from Kirti about this opportunity of using Licious product I became so happy as I was thinking of writing from past so many days but couldn't spare time for the same . However this opportunity became a reason for me to push myself & do what I love the most i.e cooking & sharing recipe. Thank you Plattershare for giving me this opportunity. The product which I have received is boneless lamb leg cubes .Lamb leg has good amount of unsaturated fats so it is good for health despite of being a red meat. It is also very high in protein, iron , several vitamins, zinc & these can be absorbed very easily by our body. Additionally it is a rich source of omega 3 fatty acid so can be used as a substitue for fish. So keeping in mind all these health benefits I have made Lamb Tawa Tikka with a fresh spring onions & yoghurt marinade . I love this recipe because it requires only few ingredients & a tawa so it can easily be cooked by busy moms , hubbys who cook occaisonally & bachelors too. Enjoy this recipe..
Ingredients  
Lamb leg cubes boneless : 250 gm

Yoghurt : 3/4 th cup

Ginger Garlic & chili paste : 1tsp

Spring Onion Paste : 2-3 tbsp

Lemon Juice : 1 tsp

Roasted Gram Floor 1tbsp

Oil to sprinkle on Tawa

Roasted Seasme seeds for Garnish

Fresh Mint Leaves for Garnish

Salt As per Taste
Instructions 
Before sharing the method let me confess this. I usually make lamb curry which needs no marination. This Lamb Tawa Tikka I have tried for the first time. So I have marinated few pieces kept them in refrigerator for 4hrs & cooked

I have tried instant marination & cooking with other batch.To my surprise the second batch cooked faster & was more tender when cooked. So I googled & found out that lamb leg is already very tender & if kept marinated in frig it gets harder.

So the tip is don't keep marinated lamb for longer & don't overcook it.

How to do it:

For Marination: Mix spring onion paste,yoghurt, gram flour, ginger garlic chili paste, salt & lemon juice.

Heat a tawa either non-stick or regular iron one.Sprinkle some oil.

Put marinated pieces on it & cover with a bowl. Cook each side for 7-8 min on a low flame. Keep changing the sides in between.
Notes
Try instant marination for better taste. if you are planning to cook after 2-3 hrs of marination then increase your cooking time.
Always cook on slow flame to retain flavor & prevent it from burning.
Heat tawa properly to avoid sticking of food.
Gram flour can be avoided . I have used it so that the marination sticks to the pieces.It also tastes good.
I used mustard oil you can use olive oil or rice bran oil or any vegetable oil of your choice
You can use same marinade as a chutney with tikka