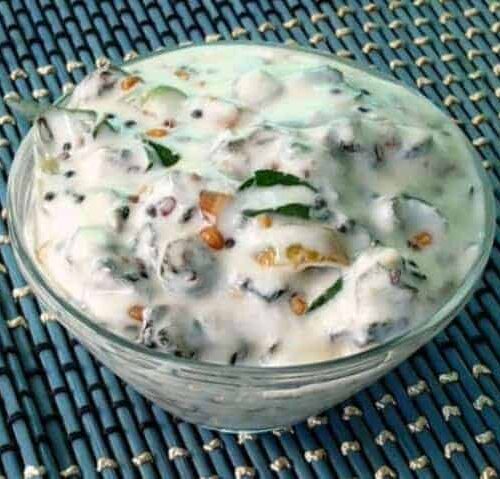 Lady'S Finger Raitha / Vendaikkai Thayir Pachadi
This is a traditional side dish that looks creamy and tastes yummy. The fried crispy Lady's Finger which is mixed in Yoghurt gravy and  is a good variation from usual Raithas....
Ingredients
Lady's Finger 8 to 10

Fresh grated coconut 2 tb spoons

Green chillies 2

Fresh beaten curd 200 ml

Mustard seeds and urad dal for seasoning

Salt to tase and Oil for frying
Instructions
Wash the Lady's Finger well and wipe out them dry._x000D_ Cut them into thin round slices._x000D_ Heat oil in a pan and deep fry the sliced Lady's Finger pieces to dark golden brown and take them out.

Place them in tissues to remove excess oil._x000D_ Add little water and grind the coconut and chillies to paste with required salt._x000D_ Mix the paste with curd and add the seasoning to it and refrigerate._x000D_ Before serving add the fried crispy lady's finger to the curd and serve after garnishing with curry leaves._x000D_ The crispy Lady's Finger in yogurt with coconut and green chillies flavour gives exotic taste when had with rice or parathas.