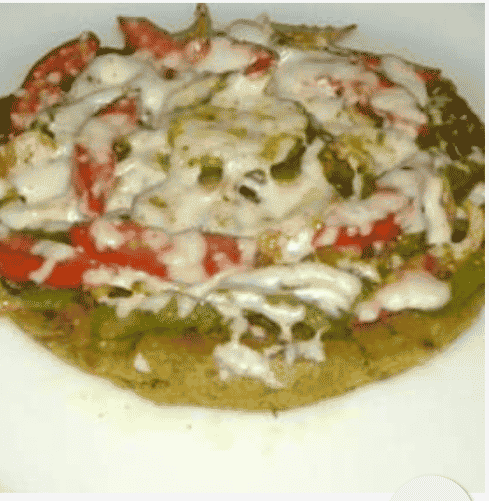 Kothimbir Vadi Pizza
28 June, 2017
Kothimbir vadi belong to Maharashtra region Usually we fry the kothimbir Vadi, but to give a healthy twist, I have added loads of veggies and Cheese to attract the kids and bake it .
Ingredients
Ingredients; for Kothimbir Vadi Gram flour 1 and 1/2 cup

Rice flour 1/2 cup

Green chillies 2-3 tsp

Sesame seeds 1-2 tbsp

Ginger 2 tsp

Turmeric 1 tsp

Salt to taste

Chopped coriander 1 cup

Coriander seeds 1 tsp

Lemon juice 2-3 tsp

Water as required

Baking Soda 1 tsp

Oil 2-3 tbsp

For topping:

Ghee 2 tsp

Sliced onion 1

Chopped mushroom 1/4 cup

Chopped capsicum 1-2

Sliced tomato 1

Salt to taste

Pizza seasoning 1 tsp
Instructions
In a bowl, mix all the ingredients of Kothimbir vadi and make a semi thick batter .

Pour this batter into a mould and steam for 15 -20 mins.

For the topping, heat a pan, add ghee and all the ingredients. Cook this for 2-3 mins and set aside.

Spread the topping over the steamed kothimbir and sprinkle lots of cheese on top of it.

Bake for 5 mins in a preheated oven at 180° celsius.

Serve it hot.