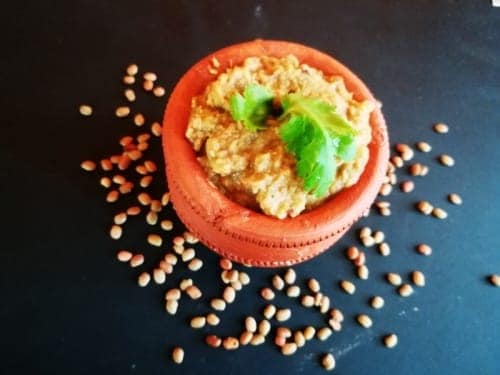 Kollu Paruppu Recipe – How To Cook Horse Gram Recipe, Horse Gram Recipe
2 June, 2020
kollu paruppu recipe is very famous in Kongunadu. People prefer horse gram for weight loss in ayurveda also horse gram good for diabetes. we used to prepare kollu paruppu recipe often especially to treat cold which goes well with white rice. lets see how to cook horse gram recipe now.
Ingredients  
kollu paruppu

known as horse gram tamil & kulthi beans in hindi – 1 cup

Water to cook horse gram

Castor oil – ½ spoon

Country tomato – 1

big

Turmeric powder – ¼ spoon

Shallots – ¼ cup

cleaned

Red chilli – 3 no's

Curry leaves – 1 sprig

Garlic – 4 cloves

Cumin seeds – ½ spoon

Coriander seeds – 1 spoon

Coriander leaves – 4 stalks

Required salt
Instructions 
To begin take a bowl add horse gram and wash them thoroughly.

Switch on the stove place a cooker then add 2 ½ cups of water, ½ spoon of castor oil, ¼ spoon of turmeric powder, one big country tomato.

Now close the pressure cooker and cook kollu paruppu up to 3 whistles.

Steps to cook kollu paruppu in earthen pots and normal pan: Switch on the stove place earthen pot or steel pan, add 3 cups of water then is hot add in washed horse gram.

Followed by ½ spoon castor oil, one big country tomato then cook up to 15 minutes

After horse gram half cooked add turmeric powder then cook until horse gram fully cooked.

At first switch off the stove drain the excess water in horse gram and keep it aside.

Next add cleaned shallots, red chilli, curry leaves, coriander leaves, cumin seeds, coriander seeds, required salt in cooker, earthen pot or normal pan.

Leave it all spices for 10 minutes.

Now take a mixer grinder put all things in to it and grind them as semi coarse paste. (No need to add water if you want add drained water from horse gram)

You can also add kollu paruppu in Aattu kal and grind well as semi coarse paste. (Taste will be super good)

Spicy authentic Kongu special kollu paruppu recipe is ready to serve.

Drizzle some homemade ghee or coconut oil on the top of the kollu paruppu and serve with hot white rice.
Notes
This is authentic Kongu style kollu paruppu; there also another way.
The only difference is seasoning, after grind the kollu paruppu, take a kadai add some ground nut oil when it is hot add mustard seeds, one red chilli and curry leaves then fry for a second and add kollu paruppu and cook up to 5 minutes. (This process will help to avoid spoilage of kollu paruppu)
As of now you need kollu paruppu in semi streaming consistency implies include water at that point cook well.
kollu paruppu in semi gravy is the good texture to eat.
More vegetarian recipes : thuthuvalai rasam recipe | pirandai chutney recipe | Mini Sambar Idly recipe | Pachai Payaru Paruppu | Paruppu Rasam recipe | murungakkai paruppu recipe