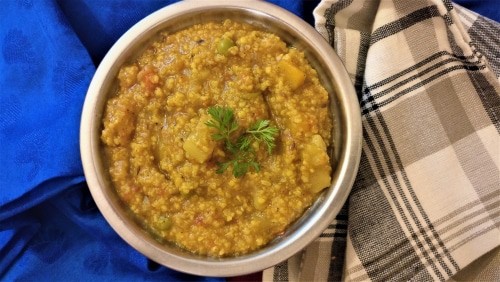 Kodo Millet Pilaf
3 August, 2017
Millets have made a come bake in a big way for a few simple reasons. They are easy to grow and doesn't need extensive resources like paddy (rice) or wheat while cultivating. Hence mainly free from pest and fertilizers, these easy on pocket poor man's food can be easily and exotically seen on Rich man's plate. It is also making diet conscious people happy because it's gluten-free and very less in calories, have the high amount of fiber and so it keeps full for a longer time. Doctors, dietitians, and nutritionist are recommending to include a variety of millets in the meal. Few millets are Little Millet, Kodo Millet, Foxtail Millet, Pearl Millet, Barnyard Millet, sorghum. Here is the simple recipe of Kodo millet and Little Millet Pilaf or Khichadi.
Ingredients
Kodo Millet - 1/4 Cup

Little Millet

Samai - 1/3 Cup

Veggies of Choice -

Red Pumpkin - 50 gram

Bottle Gourd - 50 gram

Beet Root - 1 medium size

50 gram

Beet Root leaves - 10 -15.

Peas - 50 gram

Turmeric - 1 teaspoon

Salt to taste

Water for boiling -

For Seasoning

Mustard seeds - 1 teaspoon

Black gram split and skinned

Urad Dal Dhuli- 1 teaspoon

Curry leaves - 5-6

Whole Red Chillies - 3

asafoetida - 1/2 teaspoon

Ghee - 2 tablespoon
Instructions
Boil Kodo Millet and Little millet separately. The ratio to boil Kodo millet is 1:3, ie take 1 portion of Kodo millet and 3 ratios of water. The ratio to boil little millet (samai) is 1:2 ie one portion of little millet and 2 portions of water.

Chop all the vegetables and steam them expect beet root leaves (Can include other leaves of your choice).

Steaming or boiling retains all the nutrients of the veggies and millets, so avoid pressure cook. It also leaves the veggies crunchy which otherwise become mushy when pressure cooked.

Heat 1 tablespoon of ghee, and add mustard seeds and split black dal, let it splutter, drop in Chillies and curry leaves and asafoetida, turmeric powder and all the veggies, along with the beetroot leaves. Let it cook for 2 minutes.

Mix the millets and let it cook for another 3 minutes so that the flavors infuse. Garnish with coriander leaves and serve with a dollop of ghee along with mint chutney or any pickle of your choice.