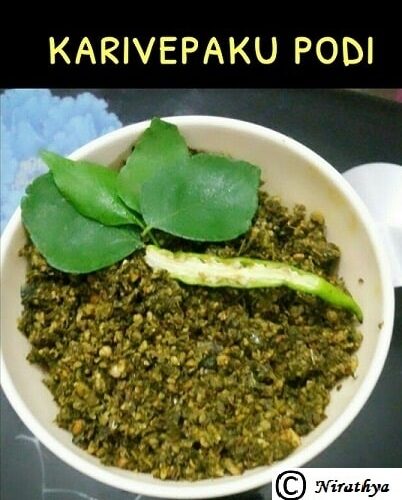 Karivepaku Podi / Curry Leaf Powder
16 September, 2017
Curry leaves are packed with iron, calcium, fibre and are rich source of vitamins like 'A' , 'C' , 'E' . Fights diabetes and anaemia, lowers cholesterol, improves digestion, prevents greying of hair. Flax seeds are rich in 'omega – 3 essential fatty acids ", antioxidants .They reduce the risk of certain cancers like breast, lung, colon as well as cardiovascular diseases. This recipe can be served with hot steamed rice by adding sesame / groundnut oil into it.
Ingredients
Curry leaves – 3 cups

Roasted flax seeds – 2 tablespoon

Bengal gram – 1 tablespoon

Cumin seeds – 1 teaspoon

Mustard seeds – 1/4 teaspoon

Green chilli/ red chilli – 3

Dry mango slices/ tamarind – 2 teaspoon

Salt – to taste

Oil – 2 tablespoon

Asafoetida / Garlic cloves – 2 pinch / 2 cloves
Instructions
Heat oil in a pan, add curry leaves fry it without changing its green colour

Transfer the leaves into a dry mixie jar.

Pour the remaining oil heat it, add mustard, cumin seeds, 'grams', roasted flax, red chilli and Asafoetida/ garlic cloves.

Transfer the above seasoned mix into a mixie jar and grind to get healthy, tasty 'curry leaf powder'.

Serve with rice by adding sesame / groundnut oil
Notes
Added Flax seed to make it more healthy.