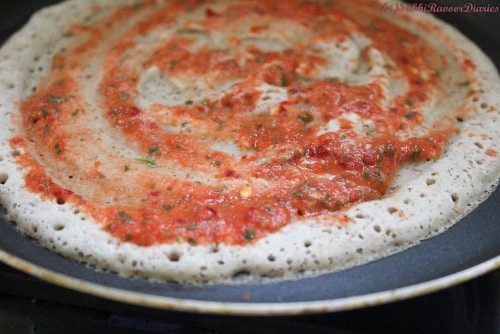 yumy Karam Dosa is my choice with Millet batter because of the blandness of the batter. Karam Dosa is my native delicacy and while adding the for the kids, can even reduce the number of Mirchis.
Ingredients
Curry Leaves: 8- 10 Tender fresh Leaves.

Toamto: 1

Onion : 1

Red Chillies: 6-7

Chana Dal

Bengal Gram : Half fist.

Salt : as required

Aam Chur

Dry Mango Powder : 1 -1 1/2 tbsp

Sugar: a tea spoon.

Batter: 2 Laddles.

water: As required
Instructions
Roast Chana dal and all the ingredients and make Curry leaf Chutney.

Take Dosa Batter and a little salt and Sugar and water and bring it to dosa batter consistency.

Now preheat the pan and add a spoon of oil and Spread the Dosa batter

Once dosa is half cooked, then spread the chutney around dosa and cover with the lid.

Then Wait till dosa gets cooked then plate it..!!

Make sure Chutney is enough spicy to add up the pep to the dosa.

If this is packed in hot pack and sent for lunch, it will be really yummy.
Notes
Try to Spread Dosa thin on Pan.
And Chutney has to be spicy