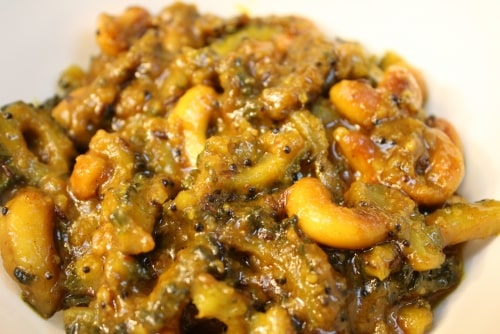 Kaju Karela
19 July, 2018
Bitter Gourd And Cashew Nuts Stir Fry
Ingredients  
For Boiling:

• Bitter Gourd – 2 Med Size

• Salt – ½ tsp

• Turmeric Powder / Haldi – ½ tsp

• Water to Boil – as required

Other Ingredients:

• Cashews – ¼ cup

• Water – ¼ cup

• Oil – 5 tsp

• Mustard Seeds / Rai – ½ tsp

• Cumin Seeds / Jeera – ½ tsp

• Asafetida / Hing – ¼ tsp

• Red Chilli Powder / Lal Mirchi – ½ tsp

• Turmeric Powder / Haldi – ¼ tsp

• Coriander Powder / Dhaniya – ¼ tsp

• Garam Masala – ¼ tsp

• Salt – ½ tsp

• Sugar – 1 tsp

• Tamarind Chutney / Imli paste – 4 tsp

• Peanut Powder / Groundnut / Mungfali – 3 ½ tsp
Instructions 
Take two medium-sized washed Bottle Gourd (Karela), remove the edges and start cutting into round thin slices like chips.

Remove the seeds and keep aside.

In a heating pan take some amount of Water (approx. 2 cup), add ½ tsp of Salt, ½ tsp of Turmeric Powder (Haldi) and boil.

Then once the Water comes to a boil, add sliced Karela and boil for 4 to 5 Min on medium flame.

With the help of sieve drain off the Water and keep Karela aside.

In a cooking pan take 5 tsp of Oil and allow it to heat up.

Then add ½ tsp of Mustard Seeds (Rai), ½ tsp of Cumin Seeds (Jeera), ¼ tsp of Asafetida (Hing), ¼ cup of Cashews and fry Cashews until golden brown.

Then add boiled Karela slices and sauté it for 1 Min.

Add ½ tsp of Red Chilli Powder, ¼ tsp of Turmeric Powder, ¼ tsp of Coriander Powder, ¼ tsp of Garam Masala, ½ tsp of Salt, 1 tsp of Sugar and mix all the spices well.

Furthermore, add 4 tsp of Tamarind Chutney or Tamarind Paste, ¼ cup of Water, 3 ½ tsp of Peanut Powder and mix well.

Cover the lid and simmer on low flame for 5 Min.

Kaju Karela Sabzi is now ready to serve with Chapati.
Video
Notes
Boiling Karela with Salt and Turmeric reduces its bitterness.
Can be refrigerate for 8 to 10 days.