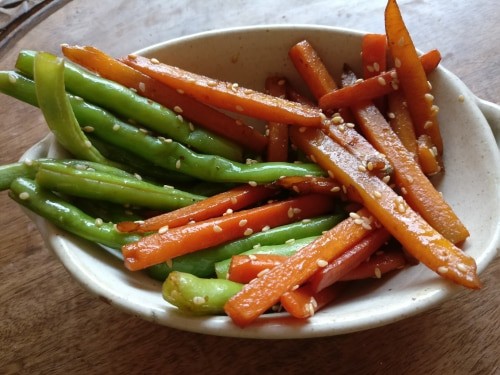 Japanese Style Sesame Beans And Carrot
14 July, 2017
Being a mom and an entrepreneur means I have to be innovative and quick in making what ever I make. While I was searching over the net for kids friendly recipes, I found this very interesting recipe where beans were stir fried in this style. And my mom instinct added one more veggie - ie carrot. Check out the easy recipe.
Ingredients
Carrots -2

Handful of Beans

Soy sauce -1 tablespoon

Olive oil - 2 tablespoon

Sesame seeds 1 teaspoon

Salt to taste
Instructions
Peel and cut carrots like french fries or finger fries.

Keep it under the running cold water to stop further cooking of the veggies and let the water strain. Pat it dry with the kitchen towels.

Dry roast the sesame seeds in a heavy skillet, till it turns light brown.

Mix olive oil, soy sauce and marinate the veggies in it for 5 minutes. You can always increase the marination time.

Once marinated add sesame seeds.

In the heavy skillet stir fry the veggies. And this is the secret which I have recently found. Any thing which has to be stir fried shows the best results when done on a heavy bottom pan on the induction stove because of even heating.
Notes
Use the heavy bottom pan and induction stove to make this recipe.