Recipe Taste
Not Specified
Yield / Serves
3 Servings
Grated Paneer – 200 grams.
Cardamom Powder – 2 teaspoon.
Few strands of Saffron – soaked in 2 tablespoon milk.
Chopped Almonds – 1/4 bowl.
Pomegranate seeds – 1/2 bowl.
Pistachios – as required.
Nutmeg powder – 1 teaspoon
First take grated paneer in a bowl. Now add 1 tablespoon sugar & 1 drop vanilla essence in paneer & mix well.
Now take it in a baking tray & bake in a microwave oven for 200°C for 25-30 mins.
Meanwhile take milk in a pan on medium flame & add sugar, cardamom powder & let it boil for 5 mins.
Now add nutmeg powder, almonds, raisins, pomegranate seeds in milk & put the flame off.
Take the paneer mixture out from the Oven & let it cool to room temperature.Add soaked saffron.
Now make small balls of the mixture & put them into the serving dish. Pour the milk above the balls & then sprinkle some pistachios & nutmeg powder.
Garnish with pomegranate seeds, & some saffron. Serve chilled.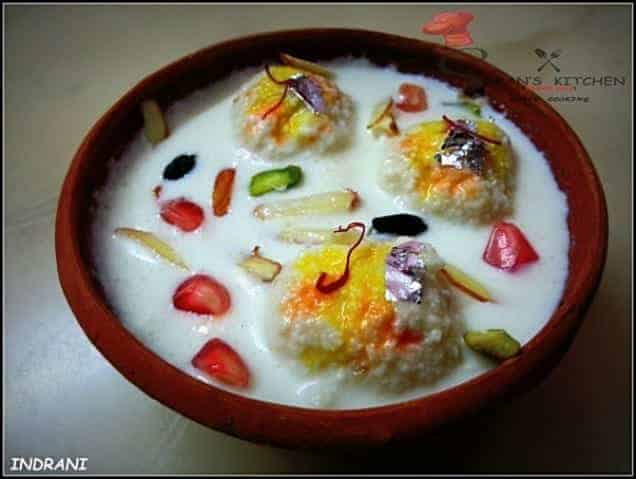 How useful was this post?
Click on a star to rate it!
Rated 4.5 based on 6 votes
Be the first to rate this post.