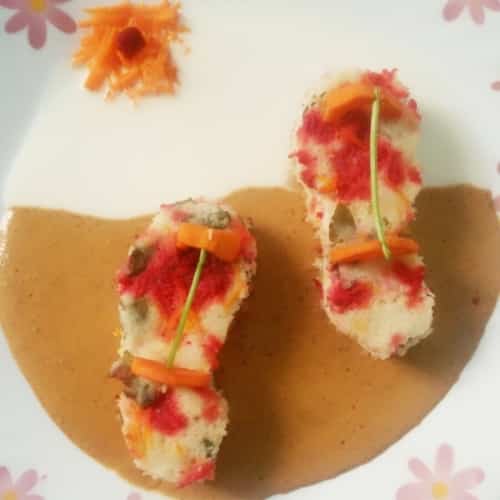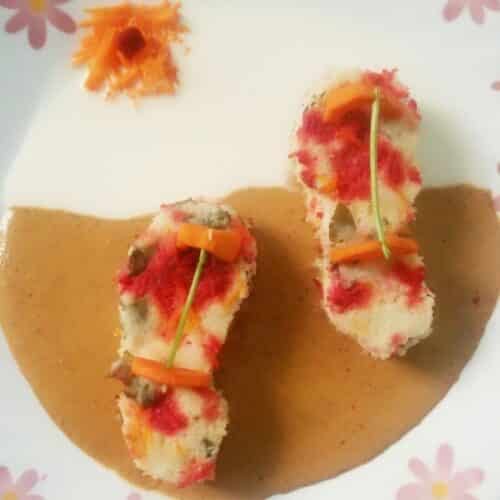 Idli Sandals
13 March, 2017
The appearance of the Idli Sandals will tantalize the taste buds of kids. After seeing these hued idli sandals, my 3 year old daughter was excited and wanted to wear them! The picture depicts one footprint on peanut chutney and the other footprint on coconut with curd chutney. Also this steamed food is rich in proteins, minerals and vitamins. Do try this recipe 🙂
Ingredients
Black gram - 1 Cup

Idli Rava - 2 Cups

Grated carrot - 1/4 Cup

Grated Beetroot - 1/4 Cup

Chopped Greens

Any- 1/4 Cup

Cumin Seeds- 1 tablespoon

Salt - to taste

Clarified butter/ Ghee- To grease
Instructions
Soak the black gram for 5 hours. Then grind it into a smooth paste.

Add the idli rava and salt to the grinded paste and mix it properly to form the idli batter. Let this ferment for 8 hours/overnight.

Now add in the grated beetroot, grated carrot, greens and cumin seeds to it. Stir it gently so that the batter is not disturbed.

Take a flat bottomed shallow vessel (Steel/ Aluminium) and grease it with ghee till the rim of the vessel. Fill half of this vessel with the prepared batter.

Place the batter filled vessel in an Idli container/cooker and steam for 10 minutes on a medium flame. Then for the next 5 minutes on a low flame.

Turn off the stove and let it cool for 5 minutes.

Transfer this carefully onto a greased plate and cut it into sandal shapes.

To garnish, cut two semi-circle pieces of parboiled carrot such that one small semi-circular shaped carrot piece is placed as a toe and the other slice as the ankle.

Join the two pieces with the help of any parboiled green stalk.
Notes
Serve hot