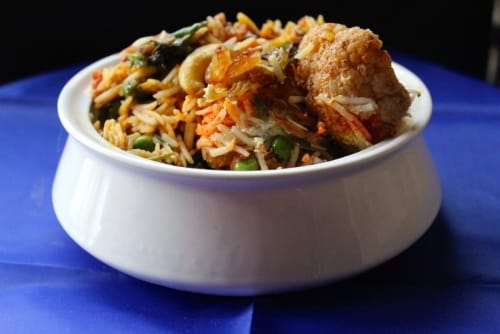 Hyderabadi Veg Dum Biryani
I am presenting a classic Indian Biryani which has received International fame!This Biryani however is made with either Chicken or Mutton (substituted with Beef or Pork in the West) but here I am using fresh and crispy vegetables for those vegetarians who feel that they are subjected to injustice especially with the Nawabi and Nizami fares!This Biryani is surely going to win you loads of accolades!
Ingredients
For the rice :

2

cup

Biryani/Basmati rice washed and strained – do not soak but keep in the strainer for 30 minutes

4

– 5 Cardamom

Elaichi

2

– 3 Bay Leaves

Tej Patta

4

– 5 Cloves

Laung

3

tsp

salt

2

tbsp

lemon juice

Water to cook the rice

The Vegetables :

2

Carrots – chopped into batons

1/2

Cauliflower – separated into florets

1

cup

chopped beans

chopped the same size as the Carrots

Other Ingredients :

1 1/2

cup

Yogurt

1

tbsp

Mint Leaves – chopped

1

tbsp

Coriander Leaves – chopped

2

Green Chillies – chopped

optional

2

tsp

salt

4

– 5 strands Saffron soaked in 1/4 cup warm milk

2

tbsp

Biryani Masala

powder together 2 tsp each of Cloves,Cinnamon,Cardamom,Bay Leaves,Mace and Nutmeg

4

tbsp

pure ghee

1

tbsp

Raisins

2

tbsp

Cashew nuts

2

Onions – sliced

2

tbsp

Ginger Garlic Paste

2

tsp

red Chilli Powder

1

cup

deep fried Onions

2

– 3 drops Orange Colour

2

– 3 drops Yellow Colour

2

– 3 drops Kewra Essence
Instructions
Prepare the rice : Heat around 2 litres water with the whole spices,salt and lemon juice and let it come to a boil.Add the soaked rice and cook for 5 – 6 minutes till 70% cooked.

Drain in the strainer and pass cold water through the rice for it to stop further cooking.Keep aside while you prepare the vegetables.

Prepare the Vegetable Masala : Heat ghee and fry the Raisins and Cashews till they turn golden brown and raisins puff up into little balloons.Remove and add the sliced Onions.Saute till they turn transparent.

Add Biryani Masala,ginger – garlic paste,chilli powder and salt.Mix well and add the vegetables.Mix again and remove from heat.After 10 minutes of cooling add 1 cup of Yogurt to the masala and mix well.Keep aside till layering the Biryani.

Prepare the other ingredients : Mix Coriander and Mint Leaves and chopped green chillies together. Add 1/2 cup of the remaining yogurt to the saffron milk and whisk to combine.Keep aside.

Assembling the Biryani : Divide the rice into 2 equal portions.Use a glass casserole if baking in an oven and a metal Handi if keeping over a Tawa on the hob. If baking the preheat oven to 150°C

Layer in the following way : 1.Bottom layer of one portion of rice.Follow that with Kewra essence and drops of both colours. 2.Ladle the vegetable masala over the rice.Sprinkle 1 tbsp saffron-milk-yogurt,2 tbsp fried onions and 2 tsp coriander-mint

3.Ladle the other portion of rice on top followed by Kewra essence,drops of both colours and top with the remaining saffron-milk-yogurt,fried onions and 2 tsp coriander-mint-green chilli mixtures.

Put a sheet of Aluminium foil on top and seal with a well fitting lid.Bake for 30 minutes in the preheated oven till done.If cooking on a Tawa then preheat the Tawa for 15 minutes on high heat then keep the Handi on top and cook for 30 minutes.