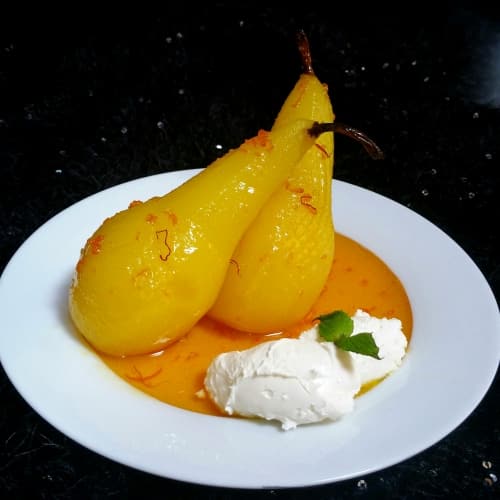 Honey Saffron Pears With Labna !
21 August, 2017
Labna is a sharp tasting yogurt cheese that balances with the sweetness of honey saffron syrup and the mellowness of pears.This is deceptively simple dish, but does need some time.
Ingredients
Instructions
Mix together salt and yogurt and pour into a muslin cloth lined sieved set over a bowl.Tie its corners and set in a cool place to drain for 12 to 24 hours in order to attain a soft cheese called Labna.

Put the peeled pears in a deep pan with enough water to cover them.Add the saffron, honey, sugar, orange, lemon peel and lemon juice.Bring this to a boil.

Reduce the heat and gently poach the pears in the saffron syrup for about 25 to 30 minutes until just cooked.They should feel just firm in the center when pierced with a sharp knife.

Leave the pears to cool in syrup, then using a slotted spoon transfer to a plate.

Place the remaining syrup over high heat, bring it to a rapid boil and reduce until thickened sufficiently to coat the back of a spoon. Cool it to room temperature.

Serve the pears with syrup spooned over and scoop of labna(yogurt cheese) at the side.
Notes
Do not poach Pears for longer . knife inserted, should just feel firm in the center.