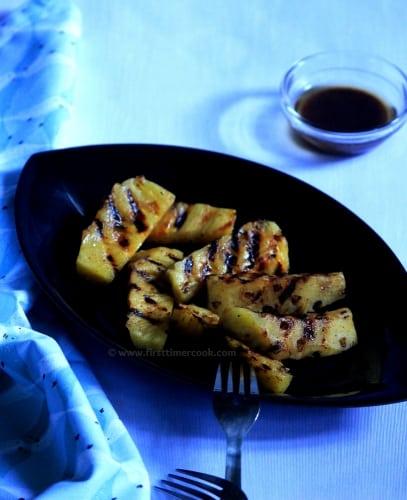 Honey Glazed Grilled Pineapple
Pineapples are a delicious tropical fruit that have been celebrated for centuries not only for their distinct and unique taste, but also for their seemingly miraculous health benefits. Pineapples are eaten fresh, juiced etc., actually there are so many ways to use pineapples. Pineapple is a good source of vitamin C and yes, so many medicinal benefits are there which include improve digestion, help in weight loss, strengthen bones, improve oral health, reduce inflammation, prevent cancer, improve heart health, improve the immune system etc. Here I have come up with grilled pineapple which are glazed with honey as well as cinammon and lime juice. After grilling, the pineapple becomes soft, tender and melts in mouth ! Also grilled pineapple doesn't alter the tastebuds like raw pineapple does. Basically the bromelain enzyme in raw pineapple kill the top layer of taste buds on tongue and hence making it hard to taste for a few hours afterwards. So if this type of issue is there with you, then I can assure that this grilled pineapple with honey glazed is the best way to enjoy without any fear of taste buds get killed. Here the pineapple is not cooked fully, just grilled a bit to break down the enzyme. This grilled pineapple with honey glaze is a perfect light dessert. So lets go in details.
Ingredients
Pineapple

medium 1 no.

Honey 1/4 cup

Lime juice 2 tbsp

Cinnamon powder 2 tsp
Instructions
Cut the leaves off the top of the pineapple, then peel it with a serrated knife.

Remove any eyes with a paring knife and then cut into wedges.

Whisk together honey, cinnamon and lime juice in a small bowl.

Next brush the grill pan very lightly with oil and heat the pan over medium heat. But I usually avoid brushing the pan and my pineapples get grilled well.

Dip each pineapple wedge lightly in the honey-cinnamon-lime mixture, then place it carefully on the hot grill pan.

Cook for 3 minutes, then flip and let cook other side of the wedge for about 3 minutes.

Then take out all the pineapple wedges from the pan.
Notes
If pineapple wedges stick to the grill pan, then brushing the grill pan with oil is must.
Prefer to use semi ripe pineapple or fully ripe pineapple.