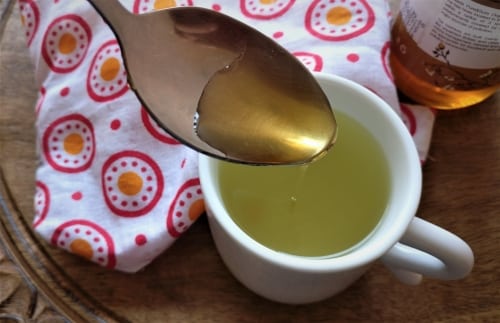 Honey-Ginger Tea
27 July, 2017
Herbal Tea is made when flowers, seeds, roots or herbs and spices are pounded or crushed and boiling water is poured on top of these so that the aroma and taste of these ingredients infuse in water. These tea do not contain any type of caffeine, unlike black, green, white or yellow tea which has some amount of caffeine in it. So if you want to start a caffeine-free day switch to herbal teas which can be easily made at home. At Plattershare, We would share series of Herbal Teas which can be made and enjoyed any time of the day especially if consumed after meals it helps in faster digestion. it's always recommended, in the case of sore throats, Here is the first recipe of the series - Honey- Ginger -Tulsi Herbal Tea.
Ingredients
Ginger - 1 teaspoon

Tulsi leaves

Indian Basil - 2

Water -1 and 1/2 Cup

Honey - 1 tablespoon
Instructions
Wash the small blob of ginger and 2 tulsi leaves. Pound or crush the Ginger.

Boil water and once it starts boiling add ginger and tulsi leaves. Let it boil for 2 minutes and switch off the stove.

Cover the pan with the lid and let it stand for 5 minutes. Open the lid and let it cool down for another 2 minutes and then put honey. Remember honey should never be cooked, boiled or poured in boiling hot water. It will turn toxin.
Notes
About the Author – Kirti is a co-founder of Plattershare, a Foodie and health conscious person who believes that right eating and right living is a sustainable model and there is no shortcut to health.