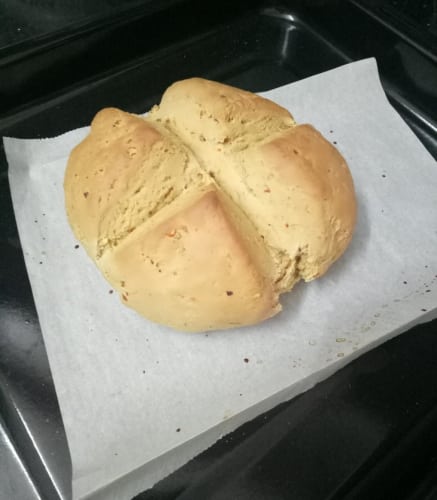 Herbed Soda Bread With 100% Whole Wheat Flour
4 January, 2018
Soda Bread is an instant yeast free bread made with Baking Soda that needs no preparation in advance. This is now baked in so many cuisines but basically comes from Ireland and Poland. The best thing about this is there is no need to knead the dough much and keep it for proofing like common yeast breads. It's really quick, if you are short of time just combine the dough and bake.
Ingredients
2

cup

flour

1

tsp

Baking Soda

1

tsp

Salt

1

tbsp

milk powder

1

tbsp

dried mixed herbs

1

tsp

chilly flakes

1

cup

buttermilk

1 cup milk + 1 tbsp vinegar, or you can use 1/4 cup curd and 3/4 cup milk mixed together
Instructions
First of all mix milk and vinegar together and keep aside, or if you are using curd and milk mix and keep aside

Switch on the oven for pre heating at 180 degrees Take all the dry ingredients – flour, salt, milk powder, herbs and chilly flakes. Mix them well in a bowl and make a well in between

Add the buttermilk in the well, start mixing.

Combine everything and knead very little, Shape it the way you like, traditionally it's baked in shape of a round bread with a Cross on top so I did the same

Making a cut on top of it is important, as it is the way from where the steam would get out, if you don't mark, it will have some undesired cuts when it comes out of the oven. Brush some milk over it

Bake in a preheated oven at 180 degrees for 20 minutes.Increase the temperature to 200 degrees and bake for 5 more minutes.

If you didn't get the golden crust now also then bake for a few more minutes till you get the desired color but keep an eye over it.Slice on cooling completely, enjoy as it is or with your favorite jam.