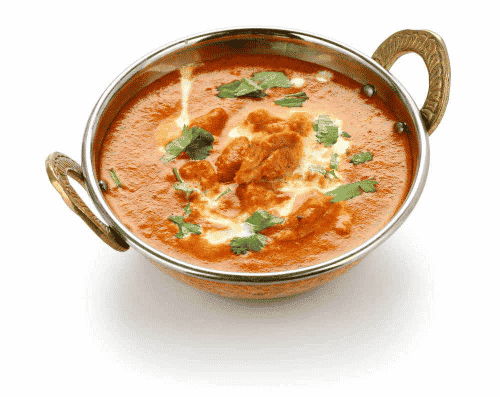 Healthy Recipe For Diabetes - Butter Chicken
Butter Chicken, that too for Diabetic patients? Really, Can Diabetic people have such a rich and delicious dish. Don't we all agree that Being Diabetic means lot of restriction but this recipe has been prepared by Dietitian and Doctor Ms. Madhavi, who is Dietician Apollo Sugar Clinics, Mumbai, Proven Diabetes Care. Here is the complete Nutritional information about the recipe:Nutrition Info Calories : 1511 Kcal / 4 servings Carbohydrates : 36 gms Protein : 120 gms Fat : 100 gms
Ingredients
Boneless chicken cut into 1½ inch pieces 400 grams

Lemon juice 1 tablespoon

Kashmiri red chilli powder 1 teaspoon

Salt to taste

Butter 2 tablespoons

For marinade

Yogurt 1/2 cup

Ginger paste 2 teaspoons

Garlic paste 2 teaspoons

Kashmiri red chilli powder 1/2 teaspoon

Garam masala powder 1/2 teaspoon

Salt to taste

Mustard oil 2 teaspoons

FOR MAKHNI GRAVY

Butter 2 tablespoons

Green cardamom 2

cloves

2

Black peppercorns 2-3

Cinnamon 1 inch piece

Ginger paste 1 teaspoon

Garlic paste 1 teaspoon

Tomato puree 1/2 cup

Red chilli powder 1/2 teaspoon

Salt to taste

Sugar 2 tablespoons

Kasoori methi 1/2 teaspoon

Fresh cream 1/2 cup'
Instructions
Apply a mixture of red chili powder, lemon juice and salt to the chicken pieces and set aside for half an hour in the refrigerator.

Hang the yogurt in a muslin cloth for fifteen to twenty minutes to remove extra water. Add the ginger and garlic pastes, red chilli and garam masala powders, salt and mustard oil.

Apply this marinade to the chicken pieces and place them in the refrigerator for three to four hours

Preheat the oven to 200°C/400°F/Gas Mark 6. String the chicken pieces onto skewers and cook in the preheated oven or a moderately hot tandoor for ten to twelve minutes or until almost done.

Baste with the butter and cook for another two minutes. Remove and set aside.

To make the makhni gravy, heat the butter in a nonstick pan. Add the green cardamoms, cloves, peppercorns and cinnamon.

Sauté for two minutes, add the ginger and garlic pastes and sauté for two minutes. Add the tomato puree, red chilli powder, salt and half cup of water.

Bring the mixture to a boil. Reduce the heat and simmer for ten minutes. Add the sugar or honey and powdered kasoori methi.

Add the cooked tandoori chicken pieces. Simmer for five minutes and add the fresh cream. Serve hot with naan or parantha.
Notes
The Above recipe has been shared by Doctor and Dietitian Ms Madhavi, Apollo Sugar Clinics, Mumbai, Proven Diabetes Care. If you have any queries regarding the recipe or are looking for any particular recipe or any diet related query you can drop a comment on this recipe and we would get the answers directly from her.