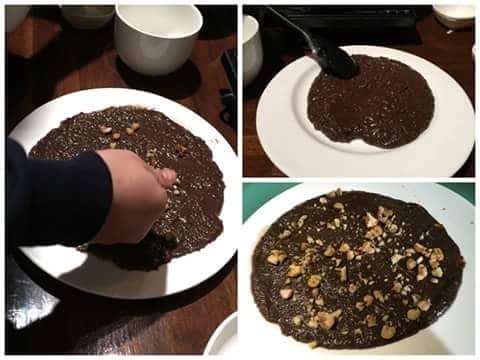 Healthy Chocolate Fudge
Ingredients
bittersweet dark chocolate - 1 cup

vanilla extract- 1 tsp

milk-0.5 cup

soya milk-1 cup

coconut milk-0.5 cup

cocoa powder- 4 tbsp

sugar-3tbsp

walnuts-to garnish

cornflour- 1 tbsp

rice flour- 3 tbsp

pinch

of salt

water- as required
Instructions
in a bowl, mix cornflour and rice flour. add little water and make a thick batter.

in a saucepan, heat soya milk, coconut milk and regular milk. get it to a gentle boil.add sugar and salt. the coconut milk is added to provide a hint of coconut flavour ans soya milk is added to increase its nutritional value.

add the rice and cornflour slurry and whisk vigorously so that no lumps are formed. stir and cook the mixture till it thickens.

add the semisweet chocolate and cocoa powder. and cook on low flame stirring continuously so that chocolate dosen't burn. when the mixture thickens , get it out into a plate and spread fairly thinly. let it cool completely. put walnuts on top.

cut into pieces and serve. this fudge is not very sweet because the main flavor is that of the bittersweet chocolate. so we do not want it to become too sweet and remain a little on the bitter side.