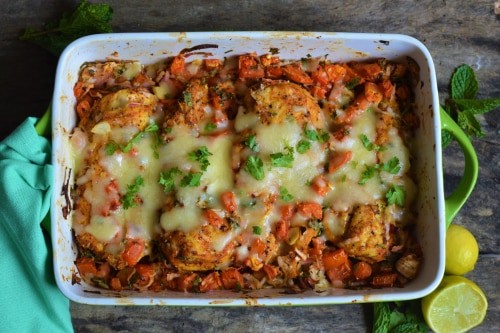 Grilled Tomato Chicken
4 April, 2017
Tomato grilled chicken is a very delicious, healthy and easy one pot dish. I have chosen chicken breasts to prepare this grilled dish, as they are the best known source of lean protein. Also chicken breasts contains various nutrients that boost our immune system, improves heart health and provides more energy. The boneless, skinless chicken breasts from Licious is perfect for this recipe. Tomato grilled chicken, as the name suggests, is a grilled recipe. So no frying is involved. Only a spoon of oil, that too a healthier option, is used for the dish. The juices that ooze out from tomatoes, onion and chicken is all that is required for the cooking. So the flavors are all locked in itself. So check out the recipe on how to make this healthy dish that won't consume much of your time. Just mix in all the ingredients and arrange the chicken pieces for the grill and there you have, your flavorsome tomato grilled chicken.
Ingredients  
Licious Chicken breast

skinless, boneless 4 pieces

Ripe tomatoes

big, chopped 4

Onion

chopped 1

Ginger garlic paste 1 tsp

Garlic

sliced 6 pods

Coriander leaves

chopped 2 tbsp

Salt as required

Freshly crushed pepper 1 tbsp

Turmeric powder 1/4 tsp

Red chili powder 1 tsp

Red chili flakes 1 tsp

Garam masala powder 1 tsp

Sunflower oil 1 tbsp

Mozzarella cheese

grated 1 tbsp (optional)
Instructions 
Clean and wash the chicken breast pieces and score them (make 3-4 slits on one side of each meat piece).

Now marinate the chicken pieces with 1/2 tbsp freshly ground pepper powder, red chili powder, salt, turmeric powder, garam masala powder and ginger garlic paste.

Let it rest for at least half an hour. The longer, the better.

In the meanwhile, prepare the tomato bedding.

Now grease the baking dish with sunflower oil. Use a dish that is grill-safe. I have used a ceramic dish without any silver/golden lining.

Next place the marinated chicken breast pieces in the tomato bedding, by making small shallow wells in them.

Once ready, grill the dish for 20 minutes.