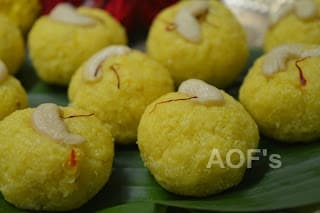 Green Papaya Laddoos (Sugarfree Recipe)
Some recipes are really special ! While it is tough to imagine desserts without the added sugar and fats, this is one such recipe that is thankfully free from the two evils and actually endowed with health benefits. Sounds too good to be true, rite ? But this green papaya laddoo is everything that belies conventional thinking. Easy to prepare and relatively less time consuming, this recipe is worth a try ! This is one recipe that has been passed on to me by my Mom and it is the one that gave me a chance to work with the inimitable Padma Shri Sanjeev Kapoor. Does one need any more convincing :)??
Ingredients
1/2

kg

green papaya

2

cup

milk

1

tbsp

ghee

4

tbsp

of Sugarfree Natura

adjust as per taste

2

pinch

saffron

2

pinch

powdered cardamom

10

cashews
Instructions
Peel and grate the green papaya.

Soak the saffron in 2-3 tsp warm milk.

Heat the ghee in a thick bottomed wok. Add the cashews and fry till they turn golden. remove from the wok and keep aside.

Add the grated papaya and fry for 8-9 mins on medium flame or till the moisture is almost gone.

Add the milk along with the sugarfree. Rub the soaked saffron strands with your fingers and add it to the same wok.

Cook on medium to low flame till all the moisture evaporates and the mixture starts to leaves the sides of the wok.

Add the cardamom powder and mix in.

Allow it to cool down till it is bearable to touch.

Divide into 10-12 portions. Rub ghee on palms and shape each one portion into a laddoo. Press one cashew into each one.

Allow to cool down completely before serving.

Stays fresh for 3-4 days when refrigerated .