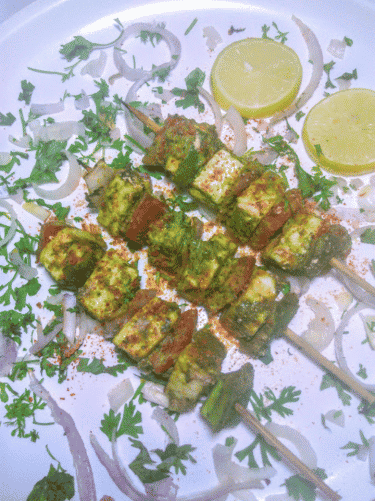 Green Paneer Tikka Masala
A twist to the classic Paneer Tikka Masala.
Ingredients
200

gm paneer

cubed

50

gm fresh coriander leaves

10

gm fresh mint leaves

2

Capsicums

cubed

Salt To taste.

1/2

teaspoon

red chilli powder

1/2

teaspoon

dhania powder

1/2

teaspoon

jeera powder

1/4

teaspoon

amchoor

1

lemon

1/4

teaspoon

chaat masala

1

teaspoon

ginger garlic paste

1

green chilli

1

large onion

cubed

1 to

mato

desseded and cubed

3

tbsp

curd
Instructions
Grind all ingredients except the paneer, tomato , capsicum , onion, lemon and chaat masala. Arrange paneer, Simla.and onion cubes in a plate.

Pour the prepared paste all over the pieces. Let this marinate in the fridge for 1-2 hours. Soak 10 wooden skewers in water for 10 minutes.

Remove and pat dry. Preheat oven at 200 degrees for 10 minutes. Arrange the paneer, tomato, Simla Cubes And onion cubes alternately on the skewers.

Bake/Grill with both the rods on for 20-25 minutes. Remove when done. Squeeze the lemon juice on top and sprinkle the chaat masala. Serve Hot With mint chutney.