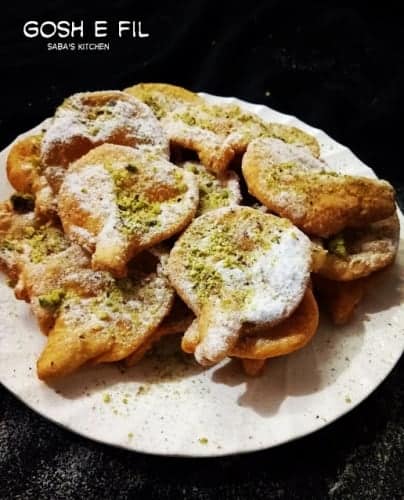 Gosh E Fil - Elephant Ears Pastries
30 September, 2018
Gosh e Fil / Elephant Ears Pastries Gosh-e fil is an Afghan and Iranian doughnut made by shaping dough into the shape of an ear (gosh), and deep-fried in oil. Each shape is then topped with chopped or powdered pistachios and powdered sugar or sugar syrup. The Afghans usually make gosh-e fil for Eid ul-Fitr (religious celebration). Main ingredients for this recipe eggs, all purpose flour, sugar and pistachios.
Ingredients
2

eggs

2 1/2

cups

all purpose flour divided

1/2

cup

clarified butter or vegetable oil

Salt a pinch

1/2

teaspoon

baking powder

1/2

cup

lukewarm milk

2

tbsp

powdered pistachios

1/2

cup

powdered sugar or u can use sugar syrup

Oil for deep fry
Instructions
Take ingredients in large mixing bowl (Eggs, baking powder, salt and clarified butter) mix it.

Add all purpose flour n make soft n smooth dough by adding little by little lukewarm milk.

Turn the dough onto a rolling pin board (using a bit of remaining ½ cup), sprinkle the dough with more of the remaining flour and knead for 10 minutes, using flour when needed.

Dough will be somewhat sticky, but have a smooth gloss to it. Cover with plastic wrap and let it rest 30 minutes.

After 30 minutes, pull off a piece of dough about the size of a large cherry tomato.

Roll into a flat 3½" x 4" oval. Take one side of the oval and fold it over to the other side, crimping edges together. It will resemble an elephant ear.

Make more "ears," deep frying them, in batches, in heated oil. Turn to cook evenly till golden, remove, and drain on paper towels.

When cool sprinkle with powdered sugar and pistachios. Serve immediately or store on air tight jar.