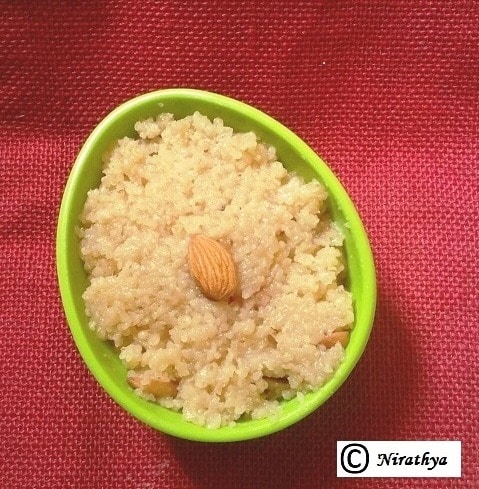 Godhuma Ravva/ Broken Wheat Halwa
Broken Wheat Halwa is offered as Naivedhyam to the deity during festivals. Godhuma ravva/ broken wheat is a good source of fibre and is rich in magnesium, vitamin B1, B2 , high in proteins and low in calories. It also promotes digestion. To make it tastier as well as healthier , I preferred Jaggery.
Ingredients
Godhuma ravva/ broken wheat- 1 cup

Caramel sugar – 1/2 cup

Jaggery – 1/2 cup

Water – 3 cups

for adults / 4 cups ( for toddlers)

Clarified butter/ ghee – 4 to 5 tablespoons

Cardamom powder – 1/2 teaspoon

Almonds – 5 to 6

Cashew nuts – 5 to 6

Raisins – 8 to 10
Instructions
Take a heavy bottomed pan, put some clarified butter/ ghee into it and fry the dry fruits. Turn off the flame. Keep it aside once fried.

Now keep another pan on stove,dry roast the broken wheat/ godhuma rava on medium flame till it turns brown in color.

Pour water into the above pan and allow the broken wheat/ godhuma rava to cook for 3 to 5 minutes.

In the meantime , over a medium-high flame prepare caramel sugar by adding sugar in a heavy bottomed sauce pan . Pour sufficient water (just above the level of sugar content) to it.

You can stir the pan to dissolve the sugar, but once the mixture comes to a boil, stop stirring.

When the color turns brown , remove the saucepan from the stove by turning off the flame and submerge its bottom in a vessel with water.

Put the above prepared caramel sugar into the cooked godhuma ravva/ broken wheat mix and continue to cook by adding mashed jaggery.

Stir thoroughly on a low -medium flame, such that each and every morsel mixes well with the jaggery and caramel sugar.

The Broken wheat halwa is ready to be offered as Naivedhyam to the deity.