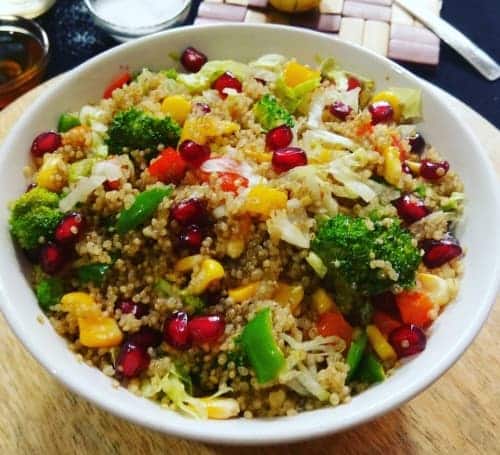 Ginger Honey Quinoa Bowl
30 September, 2018
For family it can sometimes be hard to get a quick n healthy lunch or dinner on the table that is fresh, uses quality ingredients and is not over processed. I promised myself that I will do a better job of feeding my family more "real" food and not always reach in the freezer when I need a quick meal. Quinoa Salad filled with broccoli, corn, red yellow n green bell peppers and quinoa served in a big bowl with ginger honey. Ginger honey keep digestion good of old age people and it's really healthy and quick recipe.
Ingredients
1/2

cup

quinoa

1

tablespoon

honey

1/2

teaspoon

ginger finely chopped

1

tablespoon

chopped red bell pepper

1

tablespoon

chopped yellow bell pepper

1

tablespoon

chopped capsicum

3

tbsp

boiled corn kernels

Some broccoli florets

Some chopped iceberg

2

tbsp

pomegranate

1

tablespoon

olive oil

Black pepper powder for seasoning

Salt for seasoning

optional
Instructions
To cook the quinoa: Combine the rinsed quinoa and the water in a medium saucepan. Bring the mixture to a boil over medium-high heat, then decrease the heat to maintain a gentle simmer. Cook until the quinoa has absorbed all of the water about 15mins.

Reducing heat as time goes on to maintain a gentle simmer. Remove from heat, cover, and let the quinoa rest for 5 minutes, to give it time to fluff up.

Heat olive oil in pan, add ginger in it and cook for about minute on medium flame.

Add broccoli, red bell pepper, yellow bell pepper and capsicum. Saute for minute on high flame. Switch off the flame.

Once the quinoa is mostly cool, add it to the serving bowl, and drizzle the honey on top.

Add cooked veggies, iceberg, corn kernels and pomegranate. Toss until the mixture is thoroughly combined. Season with black pepper, to taste, and add an extra pinch of salt if necessary.

For best flavor, let the salad rest for 5 to 10 minutes before serving.