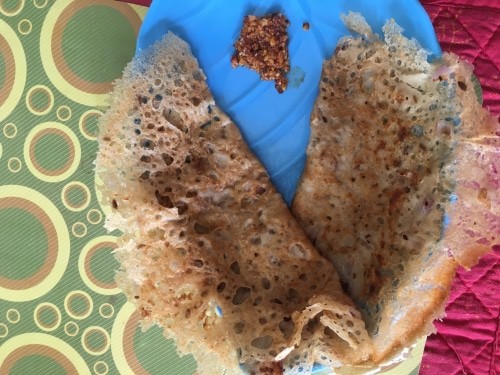 Gehun Ke Aate Ka Dosa
26 July, 2018
Gehun ke aate ka dosa is a variety of instant dosa which is healthy and fulfilling. A few ingredients and you have a batter ready in minutes. It is soft and crispy at the same time . This dosa does not require any fermentation.
Ingredients  
Wheat flour

Gehun ka aata - 1 cup

Salt - to taste

Maida - 1 tsp

Green chillies - 2 cut finely

Onion cut finely - 1

Cumin seeds - 1 tsp

Hing - 1/2 tsp

Water to make a thin batter

Oil to fry the dosas
Instructions 
Mix the wheat flour, maida, salt and hing. Add water to make a thin batter.

Add the chopped onion and green chillies. Add cumin seeds and salt and mix well to remove any lumps.

Heat a tava and put a tsp of oil in it. Pour a ladle of batter and swirl the tava on all sides to spread the batter evenly. Add oil as required. Cook on both sides till it turns golden brown on both sides. Serve with gun powder or with ghee and sugar
Notes
The batter should be thin to get crisp dosas and also it is fast to cook.