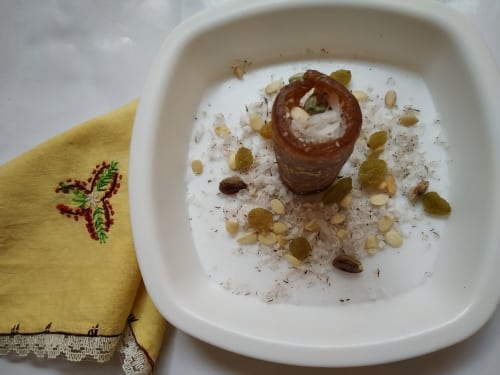 Funny Mango Food
17 March, 2018
When mango flooded in the market that is the time to make mango papad. Then we can store for the whole year. When your kids demand in the off season you cut and give. It is far better than toffee logense. I made a fun food with mango papad.
Ingredients
2

mango papad

2

tbsp

decicated coconut

2

tbsp

dry nuts

2

tsp

icing sugar

1/4

tsp

cinnamon powder
Instructions
Take thin mango papad wrap on a rolling pin. Both edges paste with little water by finger tip.

Make a mixture with dicicated coconut, sugar and dry nuts.

Take a serving plate fill the cylindrical shape of papad with the mixture. Keep in the centre of your dinning table.and see how your kids will jump to get the dessert.
Notes
You can enjoy the mango taste any season of the year. Kids favourite and funny recipe. It can be served any time.