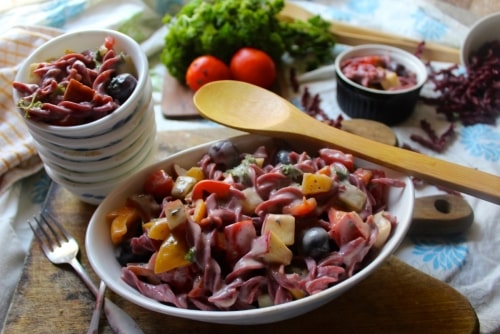 Fruit And Vegetable Summer Pasta Salad
8 August, 2017
I prefer having salads in the hot Indian summers.They make us feel so light and add to our weight loss programs.Apart from the common salad vegetables,salads can be made with pasta and added fruits as well. I chanced to come across a Beetroot flavoured pasta (Fusilli or corkscrew pasta) in my favourite departmental store and got that for a change to include in this salad.Added fruits and vegetables,seasoning and a delicious dressing make this salad a joy to have for lunch in the summers.To all the people like me who wish to lose/have lost/and in the process of losing weight!
Ingredients  
1 1/2

cup

Fusilli

or of your choice pasta

Water to cook the pasta in

2

tbsp

salt

2

tbsp

Extra Virgin Olive Oil

For the dressing :

1/4

cup

Caesar salad dressing

or of your choice

1/4

cup

Mayonnaise

2

tbsp

honey

1

tbsp

Mustard

1/2

tbsp

vinegar

1

tsp

salt

optional

The fruits and vegetables :

1

crispy Apple

red delicious preferred – diced

100

gms Grapes

halved if they are big in size

1

cup

fresh Pineapple – diced/2 – 3 slices preserved Pineapple – diced

1/2

red bell pepper – diced

1/2

yellow bell pepper – diced

2

firm Tomatoes – diced

1

fresh Cucumber – diced

For garnish :

2

tbsp

pasta seasoning/1 tbsp each of chilli flakes

garlic flakes and oregano

2

tbsp

chopped Parsley/coriander
Instructions 
Heat water and bring to a boil.Add salt and pasta and boil till a little past al dente.

The reason to cook the pasta a little more is that we will be using the pasta for a salad and not stir frying it as in the normal case.So we cook the pasta to our desired softness and toss it with the dressing later.

Drain it in a colander and wash it with cold water so that it stops cooking.Mix olive oil into it and keep aside.

Mix all the ingredients for the dressing in a bowl.

Making the Salad : Take a large bowl and add the pasta.Add the fruits and vegetables and pour the dressing on top.Mix well and add the seasoning.Mix again.
Notes
NOTES :
I did not use Onion or Garlic as I wanted it to be less acidic.However the pasta seasoning contains Garlic.You may add these ingredients as per your wish.
Any kind of pasta can be substituted in this salad.However be a little careful with the "hair" pastas like Spaghetti,Linguine or Spaghettini as  they might break on mixing giving you untidy strands of unevenly mixed pasta.Macaroni (narrow tube pasta),Penne (wide tube shaped Pasta),Fusilli (corkscrew pasta as shown in the recipe) and Conchiglie(the shell shaped pasta) are best for this salad.
I have used Caesar salad dressing as the base for the dressing in this salad.You can use Thousand Island dressing for another great tasting salad or make your own.If you want to exclude the Mayonnaise and dressing you can proceed with only the seasoning of your choice.
I have used Parsley in the recipe.If you do not have it you can use Coriander or Mint.