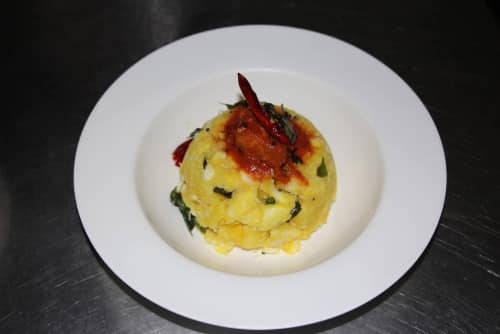 Fish Curry With Kappa
28 February, 2017
Executive Chef Shaikh Inamur Raheman shares this traditional recipe of Kerala
Ingredients
Ingredients for Fish Curry

Fish – clean and cut into 8 pieces

Small onions – 8

cut length-wise

Tomato – 1

cut length-wise

Ginger

chopped – 1 tsp

Coconut milk – ½ cup

Gamboges

Kodampuli – 4 pieces

Green chilli – 8 no.

cut length-wise

Curry leaves

Garlic

chopped – 1 tsp

Coriander powder – 1 tsp

Chilly powder – 1 tsp

Turmeric powder – ½ tsp

Fenugreek powder – ½ tsp

Oil

Ingredients for Kappa

Tapioca – 1 kg

Small onion – 5 no.

Coconut

grated

Turmeric powder – ½ tsp

Cumin seeds – 1 tsp

Green chilli – 5 no

Curry leaves - 8 nos

Salt as per taste

Oil for frying
Instructions
Fish Curry Preparation - Heat 3 teaspoons of coconut oil in an earthen vessel. Put ginger and garlic. Sauté for some time.

Now add curry leaves and green chilies. Stir a bit. Add small onions and stir again

To this, add turmeric powder, chilli powder, coriander powder and fenugreek powder. Stir well.

You may now add three cups of water and add Gamboges (Kodampuli) pieces. Now add salt.

When it starts to boil, add fish pieces and stir gently. Boil it till the curry becomes half thick

Add to this tomato pieces and cook for some more time. Proceed to add coconut milk. Stir gently.

Kappa Preparation

Remove the skin and cut the tapioca into small pieces. Place the pieces in a pressure cooker

Pour sufficient water and cook well. When it is cooked, drain the excess water.

Now add salt and curry leaves. To this, add the coconut paste made by grinding grated coconut, turmeric powder and cumin seeds, Stir well.

Pour a little oil and cover the vessel. Cook for some more time. Now you may mix the contents well and to this add two teaspoons of coconut oil.

Serve your Fish curry hot. Ideally, you may try it with Kappa (tapioca).
Notes
This traditional Kerala Recipe has been shared by Executive chef Shaikh Inamur Raheman from The Fog resort & Spa, Munnar, Kerala. With more than 17 years of experience, Chef Raheman has already made his unique identity in Kerala's hospitality industry. He has worked with various hotels and resorts both in Indian and abroad including The Park Inn Oman, Hamdan Plaza Oman, Safeer international Kuwait, Club Mahindra Munnar, Quality Inn Aruna, Asoka Chennai. We thank THE FOG RESORTS & SPA, MUNNAR for sharing this authentic recipe. The Fog Resorts is one of the best resorts of Munnar which provides amazing culinary and nature experience.