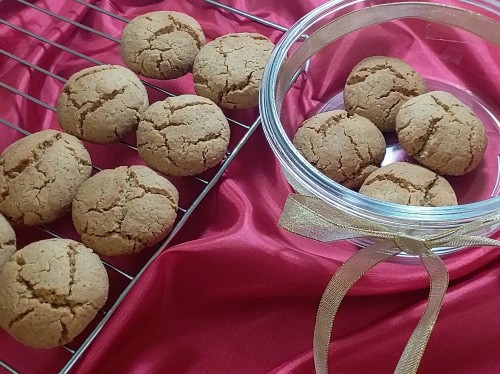 Fennel-Jaggery Wholewheat Cookies
18 November, 2017
Fennel Jaggery Wholewheat Cookies is a derived healthier version of traditional biscuits made on stove top. These cookies are rich in fibre, iron from jaggery and nutrients from whole flour. Fennel Jaggery Wholewheat Cookies are very easy to make and so good to eat without any guilt. Word of caution-do not overbake otherwise they will be hard..
Ingredients  
Wholewheat flour 1 cup

Unsalted butter 1/4 cup

Grated jaggery 1/4 cup

Powdered sugar or brown sugar 1/4 cup

Baking powder 1/2 teaspoon

Baking soda 1/2 teaspoon

Cardamon powder 1 teaspoon

Fennel seeds 1 teaspoon

Salt 1/8 teaspoon

Lemon juice 1/2 teaspoon

Milk 2 tablespoons

Butter for greasing baking tray
Instructions 
Preheat oven to 180 degrees Celsius. Grease a baking tray.

Take butter, sugar, jaggery, lime juce in a bowl and melt it. Cool it and keep aside.

Sift flour , baking powder, baking soda and salt.

Add cardamom powder and fennel seeds to the above dry mixture.

Now gently combine the jaggery mixture to the flour mixture till a dough is formed. Add a little milk at this stage if needed.

Take 25 grams of dough and roll into a ball. Around 12 balls should be formed from the dough

Gently press each ball between your palms to flatten to 1/4" thickness.

Place the cookies on the greased tray with space between them.

Bake for 10 minutes till golden

Remove cookies from oven and let them cool.

Store cookies in airtight container.
Notes
Monitor very carefully the last 2 or 3 minutes of baking