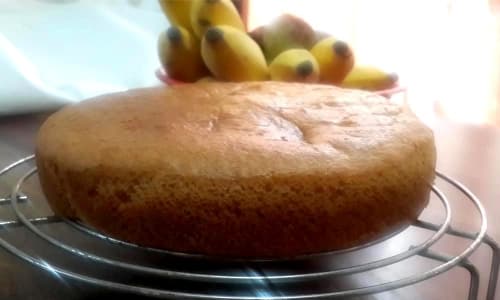 Eggless Vanilla Cake
3 May, 2017
Generally, all cakes are made using eggs, because eggs provide the required softness to the cake and enhances its taste. Vegetarian people, for the reasons of eggs, avoid baking. If you follow my step by step recipe and ensure that Oven temperature is maintained, you will get your moist fluffy eggless cake and will never avoid baking yourself.
Ingredients  
All Purpose Flour 140 gm

Refined Sugar 100 gm

Curd/ Yogurt 120 ml

Milk 180 ml

Oil 120 ml

Baking Powder ½ tsp

Baking Soda 1 tsp

Salt ¼ tsp

Vanilla Essence 1 tsp
Instructions 
In a bowl mix Curd, Oil, Sugar, Milk and Vanilla Essence. In a separate bowl mix Flour, Baking Powder, Baking Soda and salt altogether. Sift all the dry ingredients and mix into wet ingredients.

Line a baking tin with parchment paper and pour the batter into it. I have used baking tin which is 8 inches in diameter.

Now place this tin in a preheated oven at 180 degree Celsius for 25 minutes or until toothpick inserted into it comes out clean. Once done, take out the baking tin and let it rest for 5 minutes.