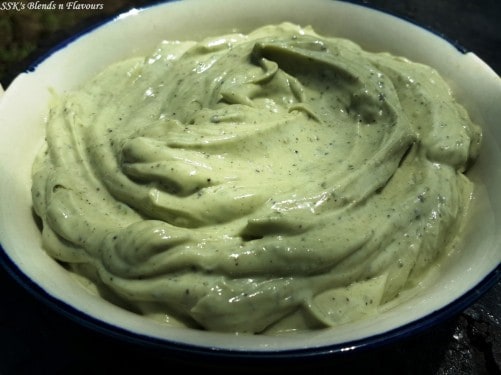 Eggless Basil Mayonnaise Using Acv
30 August, 2016
My family likes Mayonnaise, a thick, creamy, flavorful sauce-like condiment in anything and everything, be it in sandwiches, salads, dips, pastas and more. So, it is one of my go-to-condiments and I prefer to make it at home instead of using store-bought mayo. Here, to the basic mayo recipe, I have added fresh basil from my kitchen garden and BRAGGs Raw, Organic Unfiltered Apple Cider vinegar that was offered to me by goIndiaOrganic through #Plattershare. These two ingredients with their nutrients quotient and distinct flavor enhances the taste of mayo to a new level.
Ingredients
Fresh Basil leaves-1/4 cup

Fresh Cream-1/4 cup

preferably homemade cream

Milk-1/4 cup

boiled and chilled

Olive Oil- 1 tbspn

BRAGGs Organic Raw Apple Cider Vinegar-2 tsp

Salt and Black Pepper to taste
Instructions
Blend all the ingredients except olive oil till it gets combined and forms a smooth paste-like consistency.

Now, keep blending and gradually add olive oil making sure that a very little amount or a thin stream of oil gets added in. Pulse it in higher speed.

When the oil gets incorporated well with other items, mayonnaise thickens and looks creamy and silky smooth. Till this stage, keep pulsing until you get the desired texture. If the mayo is thin or runny, add some more olive oil and pulse it.

If it is too thick, add little amount of milk and whisk it again. Adjust seasonings if required.

Store the mayonnaise in air-tight jar or container and keep it refrigerated. It stays good and fresh for about a week.