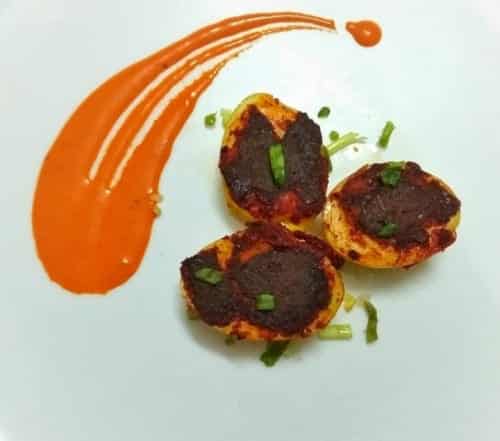 EGG FRY WITH MEXICAN CHILLI GARLIC SAUCE.
29 September, 2018
Eggs are usually well known for their absolute texture and calories contained and packed with them...there's lot of varieties of using eggs , whether for omelettes ,curries, half boiled eggs and salsa's all come to our 'minds and nerves', when we passes through the name "egg"....trying to think in smart and effortless way i brought about a simple "egg fry" recipe with a light twist of "chilli" and "garlic" preparing a "Italian chilli garlic sauce".... and also a unique batter to my egg. Which i feels very delicious one..
Ingredients  
Eggs 2 to 3

Butter 2 tsp.

Red chilli 2 tsp.

Salt to taste

Mint leaves a handful

usage

Cilantro 1/2 cup

Oregano 1 to 2 tsp

Garlic 7 to 8 cloves

Red chili flakes 1/4 cup

Cinnamon powder 1/4 tsp

Turmeric powder 1/4 cup

Sugar 1 tsp.

Pepper Powder 1/4 tsp.
Instructions 
Bring a pot of water to a boil over a high heat.

Reduce the heat to low, then add the eggs and cook for 10 to 12 minutes.

Drain and then cool the eggs in ice water.

Peel the cooled eggs and cut in to lengthy halves.

For the egg masala : Combine together turmeric powder, pepper powder, oregano, red chilli flakes, cinnamon, garlic paste, mint leaves(crushed) and salt to taste and add water little by little to make a thick paste.

Marinade the eggs with the above prepared paste and set aside for about 5 to 10 minutes.

Heat butter in a frying pan and fry the eggs in very low flame.

Fry till both the sides turn out golden brown in colour.

Remove from the heat and serve with "chilli and garlic sauce"

For the Chilli Garlic Sauce: Pour butter on preheated pan and then add the garlic and sauté well

Now add Kashmiri red chillies, sugar,salt and black pepper powder.

Add water and let it simmer and cook for about 10 to 15 min.

Cool and then transfer to a blender/motor and form a smooth paste from it.

Serve it with Egg fry.
Notes
cook slowly until whites are completely set and yolks begin to thicken but are not hard.