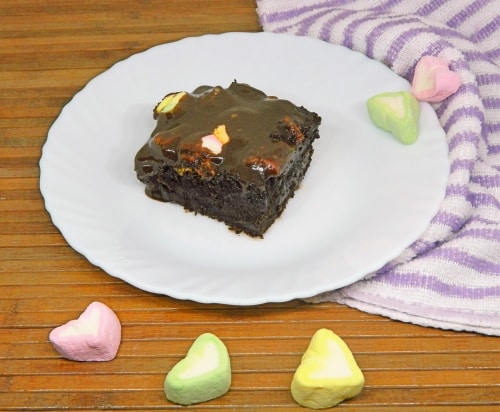 Egg Free Mississippi Mud Cake Using Kalya Cocoa Powder
Mississippi Mud cake is a very famous chocolate cake with marshmallows and a sweet chocolate glaze, and let me ask who will not love it? It is a delectable dream and a sweet treat for all chocolate lovers. Why is it called so? This chocolate cake is topped with gooey chocolate sauce and the cake looks dense like the banks of Mississippi river. This cake is free of eggs and baked using whole wheat flour, kalya cocoa powder and vegetarian marshmallows. It is a very satisfying chocolate cake for all kids as well. Enjoy this rich, fudgy brownie like cake topped with marshmallows and a gooey chocolate frosting with a glass of milk or hot coffee.
Ingredients
Mud cake :

1

¾ cup whole wheat flour

2

tbsp

corn flour

¾ cup unsweetened cocoa powder

Kalya cocoa powder

1

¾ teaspoon baking powder

1

teaspoon

baking soda

¼ teaspoon salt

1

¾ cup cane sugar

1

¼ cup milk + 1 ¼ tablespoon apple cider vinegar

1

cup

hot coffee

1 cup hot water + 1 teaspoon instant coffee powder

½ cup oil

1

teaspoon

vanilla extract

1

½ cup marshmallows

Chocolate frosting:

¾ cup dark chocolate chips

¾ cup + 1 tablespoon whipping cream

1

¼ cup icing sugar
Instructions
Mud Cake : ========= Grease a baking tray and dust it using little flour.

Mix vinegar with milk and set it aside for 10 minutes.

Sieve whole wheat flour, cocoa powder, corn flour, salt, baking powder and baking soda together for 2 to 3 times and set it in a large mixing bowl.

Add sugar and mix the dry ingredients.

Prepare the coffee using 1 cup hot water and 1 teaspoon instant coffee powder.

Preheat oven at 160c.

Make a well in the dry ingredients bowl and add coffee, milk vinegar mixture(buttermilk), oil and vanilla extract.

Using an electric mixer beat for just 2 minutes.

Pour the cake batter into the prepared baking tray and bake for 40 to 45 minutes at 160c or until a cake tester comes out clean.

Once the cake is baked, immediately spread the marshmallows evenly on the cake.

Turn off the oven and place the cake inside the hot oven for 4 minutes. This allows the marshmallows to melt and stick onto the baked cake.

Remove the tray from the oven and allow it to cool for 20 o 25 minutes before adding the chocolate glaze.

Chocolate glaze: =============== Place the chocolate chips in a mixing bowl.

Heat cream in a saucepan but do not boil.

Pour the hot cream over the chocolate chips and rest it for few minutes.

Stir until the chocolate chips are melted and looks smooth.

Add the icing sugar and whisk until you get a thick but pour-able consistency liquid.

In case if it is thin add few tablespoons of icing sugar as required. This depends upon the cream used.
Notes
Oven temperature and timings varies from one oven to another, hence change the settings according to your oven.