Dragon Fruit Rose Popsicle
Recipe Taste
Not Specified
Yield / Serves
5 Servings
Pink Flesh Dragon Fruit/Pitaya – 1
Rose water/Roja Paneer – 150 ml
Honey – 2 tsp or as needed
Chop the dragon fruit after removing its outer skin.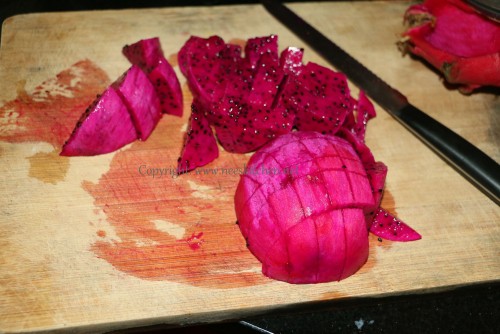 I used syringe as a fun activity with my kid. You may use funnel also.
Adjust the taste of honey as the taste of pitaya varies from variety to variety.
After blending you might need to adjust the sweetness taste as the seeds would have crushed by now and the sweetness might have reduced.
The seeds cannot 100% crush even if you blend for 6 minutes. It is still fine as the seeds give a natural crunchiness.
How useful was this post?
Click on a star to rate it!
Rated 4.5 based on 2 votes
Be the first to rate this post.