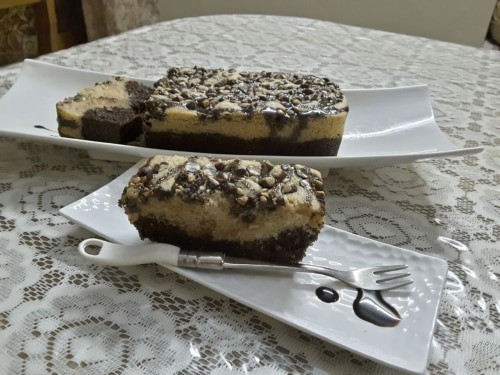 Double Decker Bounty Cake
4 April, 2017
Bounty is a chocolate with COCONUT fillings. Here its made healthy using semolina and whole wheat flour. It is butterfree, eggfree.
Ingredients  
½ CUP SEMOLINA

½ CUP WHOLE WHEAT FLOUR

½ CUP DESSICATED COCONUT FLAKES

½ TBSF BAKING POWDER

½ CUP CASTER SUGAR

½ CUP OIL

½ CUP CURD

½ CUP MILK

1

and ½ TSF COCOA POWDER

1

TBSF DARK CHOCOLATE CHIPS

1

TBSF WHITE CHOCOLATE CHIPS

¼ CUP DOUBLE SHADED CHOCOLATE CHIPS

Can use dark chips
Instructions 
Preheat oven at 175 degrees. Grease and line a loaf tin. Sieve together semolina, whole wheat flour, baking powder 3-4 times. Add coconut flakes to it and mix.

Whisk oil and sugar till creamy. Add curd and mix well. Add flour mixture and milk to form a little thick batter, but of pouring consistency.

Divide the batter into two. To one add cocoa powder and white choco chips and fold. To other half add dark choco chips.

In the prepared tin, first pour the dark batter. Top it with white batter carefully so that they form two layers. Generously sprinkle double choco chips.

Bake in preheated oven for 20 minutes or till the toothpick comes out clean and dry. Cool it completely before demoulding. Slice it. Serve with chocolate sauce.