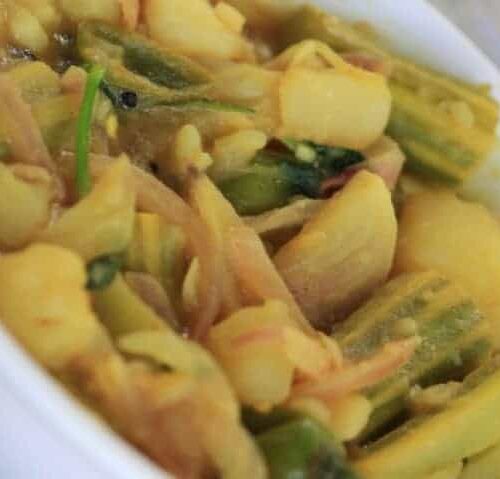 Dosai Bhaji
31 July, 2016
Dosa Bhaji is a version of sambhar which tastes good with Dosas
Ingredients  
Potato

boiled – 200g

Drum stick

cut it into pieces – 1 nr

Onion

sliced – 1 nr

Turmeric powder – ¾ tsp

Sambar powder – 1tsp

Salt to taste

Ginger

chopped – 1 tsp

Green chilli

slitted – 2nr

Coriander leaf

chopped

Tamarind – 15g

For tempering

Ghee – 3tbsp

Mustard seeds – ½ tsp

Curry leaf – a few

Jeera seeds – ¼ tsp

Asafoetida – ½ tsp
Instructions 
1. Slightly mash the boiled potato and keep aside. 2. Heat ghee in a kadai, add mustard seeds, jeera seeds, curry leaf and asafoetida.

3. Now add the onion, sauté it for a minute. Then add the green chilli, ginger and Turmeric power. Mix it all well. 4. Add the water now. Once the water is boiled, add the sambar powder, salt and drumstick

5. Add potato and tamarind extraction after the drum stick is nicely cooked. Boil it well for three minutes. Adjust the consistency if it is really required. 6. Put some coriander leaf on top, mix it well and serve hot with your breakfast items.
Notes
It is a item which is very easy to prepare in the morning, taste good with dosa.