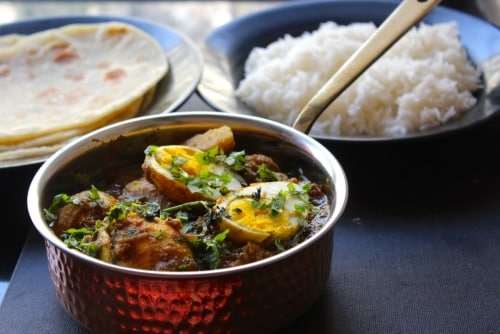 Dim Kosha (Bengali Style Egg Curry)
In every culture and State in India there is a different recipe of Egg Curry!I had posted Chettinad Egg Curry some time back.Here is the Bengali version of the same."Dim" pronounced "deem" is the Brngali term for eggs.Kosha is a type of curry!Instead of the Chettinad Masala there is the Bengali Panchphoron powder here which is actually a mixture of 5 spices in equal proportion : Fenugreek Seeds (Methi) Nigella Sativa (Kalonji) Mustard Seeds – black (Rai) Fennel Seeds (Saunf) Cumin Seeds (Jeera) Given by Sandeepa Mukherjee Dutta in her wonderful book – Bong Mom's Cookbook! This recipe serves 2 – 3 depending on the eggs a person can eat.In my family this recipe serves 2 people as I prepare 2 eggs per person and later on the demand is always for one extra so I actually boil 5!However the curry suits 4 or 5 eggs perfectly so make more if you plan to make a larger quantity!
Ingredients
4

– 5 eggs

hard boiled

3

potatoes – peeled and chopped into batons or fries

2

Onions – chopped roughly

3

Tomatoes – pureed

1

tbsp

Ginger Garlic paste

1

tbsp

green chilli paste

1

tsp

Panch Phoron

1

tsp

Kashmiri Chilli Powder

1

tsp

Garam Masala

1

tsp

Cumin Powder

jeera

1

tsp

Coriander Powder

dhania

1

tsp

Turmeric Powder

Haldi

1

tsp

powdered sugar

Salt to taste

2

tbsp

Coriander Leaves

4

tbsp

Oil
Instructions
Heat 1/2 tbsp Oil and fry chopped Onions till brown.Cool and make a fine paste.Heat 1/2 tbsp Oil and saute the eggs till the skin begins to crinkle and turn golden.Reserve the Oil.

Heat 2 tbsp Oil and pan fry the chopped Potatoes till golden brown and partly cooked.Drain and keep aside.

In this pan add the reserved Oil after frying the eggs and the remaining 1 tbsp Oil and add Panch phoron.Fry for 2 – 3 seconds and pour in the fried Onion paste.Saute for 1 – 2 minutes and add the Tomato Puree.

Now add the ginger garlic and green chilli pastes and mix well.Add the spice powders – chilli,cumin,turmeric and coriander.Add 1 tbsp Coriander leaves.Mix and cook till Oil floats on top.

Add the fried Potatoes and 3/4 – 1 cup of water.Stir well and cover.Cook the potatoes on medium heat till fork tender and the water has partly evaporated.Add the eggs and stir well.

Cover and cook 3 – 4 minutes till the masala coats the eggs.Remove from heat.

To serve make a bed of gravy and potatoes on a plate.Place one egg whole and cut the other into half.Keep the two halves attractively side by side.Sprinkle the remaining Coriander leaves on top.Serve with Roti,Paratha,plain rice or pulao!