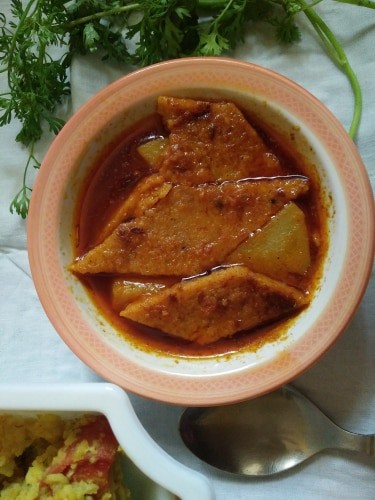 Dhokar Dalna (Baked Dhokas)
29 June, 2017
Dhokar dalna is a signature Bengali vegetarian dish. It is lentil cake made using chana daal which is traditionally fried and simmered in a satvic gravy i.e. A gravy without onion and garlic. I've baked the dhokas instead of frying them to make it healthy and they taste as good as ever. The process is little time consuming but it's worth all the effort.
Ingredients
For dhoka

Chana daal 1 cup

Ginger 1 inch

Jeera 1 teaspoon

Jeera powder 1 teaspoon

Salt and sugar as per taste

Green chillies 2

Hing 1/2 teaspoon

Oil 2 tablespoon

For the Gravy

Potatoes 2 medium diced

Bay leaf 2

Jeera 1 teaspoon

Ginger paste 1 teaspoon

Tomatoes 2 chopped

Green chilly 2

Jeera powder 1/2 teaspoon

Coriander powder 1 tablespoon

Red chilly powder 1 teaspoon

Salt and sugar per taste

Garam Masala Powder 1/2 teaspoon

Mustard oil
Instructions
For the preparation of dhoka: soak the chana for few hours then grind it with ginger, chilly and little water into a paste.

Take a tablespoon of oil in a non stick pan add jeera, hing, the ground mixture, salt and sugar.

Stir it till the daal mixture dries and comes together.

Take a plate and grease it with some oil, put the mixture on it and spread evenly.

Let it cool down. You can keep in fridge it will harden fast and you can cut pieces.

Cut in medium sized diamond shapes or any shape. Grease a baking dish , place the dhokas on it sprinkle little oil and bake at 180 degrees for 20-30 minutes.

For the gravy : take mustard oil in a kadai and add jeera and bay leaf.

Add ginger paste and cut tomatoes.

Add jeera powder, coriander powder, turmeric powder, red chilly powder, salt and sugar.

Once the tomatoes turn mushy add potatoes.

Add water, cover and cook the potatoes.

Once the potatoes are done add the baked dhokas in the gravy.

Let it simmer for 2-3 minutes.

Sprinkle garam masala powder and a teaspoon of ghee.

Switch of the flame, cover and keep it for sometime for flavors to blend well before serving with white rice.
Notes
You can fry the dhokas instead of baking. Dhokas tend to break, care should be taken while adding to the gravy.