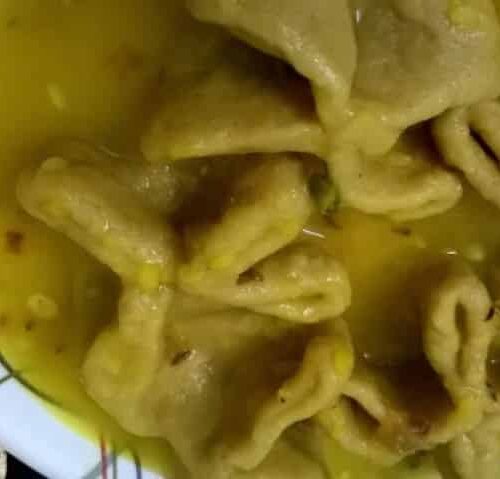 Dal Ke Phool/Wheat Flour Dumplings Dipped In Lentils
25 January, 2016
This is a traditional recipe from eastern UP & is now a kind of extinct recipe because of obvious new generations liking of junk food.But if you want to feed your family with aleast one healthy meal a day then this can be a very good option as it is tasty healthy easy & quick to prepare.
Ingredients
Tur Dal /Arhar dal : 1 cups

Wheat Flour : 1 cup

Onion Finally Chopped : 1 tbsp

Garlic Finally chopped : 1/4 tbsp

Ginger Finally Chopped : 1/4 tbsp

Green Chilies As Per Taste

Cumin Seeds 1/2 tsp

Asafoetida A Pinch

Turmeric Powder : 1/4 tsp

Salt As Per Taste

Vegetable Oil : 1tbsp

Water : 6 Cup
Instructions
Pressure cook dal with 2 cups water, salt & turmeric powder. Dal will be cooked after 1 long whistle on high flame & 2 small whistles on low flame. Rest it to release the pressure.

Knead Flour with some salt & water like you knead it for your daily chapatis.Roll it into upto 3 inch diameter & make a flower of it by bringing four sides together in center.

Now add remaining water in dal and bring it to boil. When it reaches to its boiling point drop flowers carefully one by one into it.

Close the pressure cooker lid & cook it on medium flame till it whistles. Typically 5 -6 min. Switch off the gas & rest it again to release the pressure.

In another pan heat oil . Add cumin seeds , asafoetida & splutter. After that add ginger garlic & onion. Cook till everything becomes golden brown.Pour immediately to the dal & phool mix. Serve hot with achar & papad.
Notes
Don't put the dumplings in dal until it reaches to boiling point . They will stick to each other.
If you don't want to give this shape you can simply roll small thick chapaties upto 4 inch diameter & cook in boiling dal