Rosette Custard Cookies A.K.A Melting Moments Cookies
Yield / Serves
6 Servings
A favourite of kids the world over these delicious custard cookies are'nt known as melting moments for nothing…
100 grams (3/4 cup) plain flour(maida)
30 grams (2 tablespoons) custard powder (in your flavour of choice)
45 grams (3 tablespoons) powdered sugar
100 grams (1/2 cup) butter, softened
Milk (just enough to make the batter pipe able)
Sieve the flour and the custard powder together into a bowl. In another bowl mix in the butter and the sugar with a wooden spoon and blend until pale in colour, smooth and creamy.
Put in the flour mixture and mix until smooth and there are no lumps. Add a little milk only if the dough is stiff or you want to thin it down slightly to a pipe able butter cream consistency.
Fill the dough in a piping bag (use a zip lock bag if you do not have a piping bag) fitted with a star nozzle. If not piping simply make small balls of the dough and press down on the cookie sheet with your fingers. (use no or very little milk then)
Line a baking try with parchment and pipe out little rosettes keeping a distance of half an inch between two.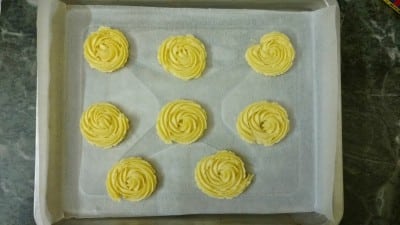 Refrigerate the cookies for 15 mins and meanwhile preheat your oven to 180 degrees centigrade/ 350F/Gas mark 4. After cooling for 15 mins bake the cookies for 8 to 10 minutes or until they turn golden brown at the edges.
Allow to cool down to room temperature and then store in an airtight container.
The baking time depends on the size of the cookies. It could be 8 to 10 minutes for small cookies and 10 to 12 minutes for larger cookies. Make sure you keep a close watch on your oven and take the cookies off after you see them turning golden brown at the edges.
The cookies will be slightly soft when just out of the oven, but will crisp up in no time.
How useful was this post?
Click on a star to rate it!
Rated 5 based on 4 votes
Be the first to rate this post.