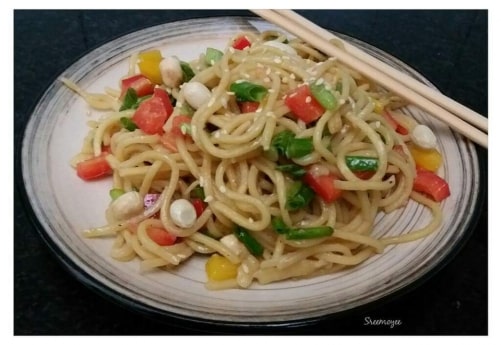 Crunchy Noodle Salad
A different and delicious salad, including noodles. A tangy vingrette which uses the natural sweetness of honey.
Ingredients
Boiled noodles - 1 cup

Chopped red bell peppers - 1/4 th cup

Chopped yellow bell pepper - 2 tbsp

Chopped scallions/spring onions - 3 tbsp

Toasted sesame seeds - 1/2 tsp

Toasted peanuts - 2 tbsp

For the vingrette :

Sesame seed oil - 3 tbsp

Peanut butter - 1 tsp

Soy sauce - 1 tsp

Vinegar - 1 tsp

Honey - 1/2 tsp

Kosher salt

Grated ginger - 1/4 th tsp

Pepper powder - 1/4 th tsp

Grated garlic - 1/4 th tsp
Instructions
Boil the noodles and jeep aside. Chop up the vegetables as well, keep aside.

To make the vingrette , whisk the sesame seed oil with vinegar, honey , say sauce and peanut butter till everything is mixed properly.

Now add the kosher salt, pepper powder, grated ginger, grated garlic to the above mix and whisk it.

Now mix the noodles, veggies into the vingrette. Plate up the noodle salad and sprinkle the toasted peanuts and sesame seeds on top. Serve.