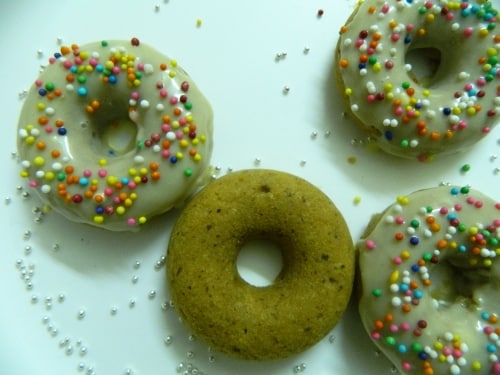 Coconut White Chocolate Pronuts
8 April, 2017
Kids healthy treat (No yeast) - Rich Coconut white chocolate pronuts(protein donuts) / cake donuts are baked using whole wheat flour, almond flour, coconut milk, desiccated coconut and white chocolate as the main ingredients. The healthy sweetener used in this recipe is coconut sugar. White chocolate blends well with coconut and almond flour giving the donuts a delicious taste.These donuts are topped with white chocolate glaze.
Ingredients  
Donuts - ¾ cup whole wheat flour

½ cup almond flour

¼ tsp salt

1

flax egg

Mix 1 tbsp of flax seed powder with 3 tbsps of water and set aside for 10 – 15 minutes

1

tsp

baking powder

¼ cup finely chopped white chocolate couverture

¼ cup coconut sugar

½ cup + 1/8 cup coconut milk

1/8

cup

olive oil

1/8

cup

melted coconut oil

1/8

cup

desiccated coconut

White chocolate glaze using coconut milk - 1 cup white chocolate chips

1

tbsp

melted coconut oil or olive oil

3

– 4 tbsps coconut milk
Instructions 
Donuts - Prepare the flax egg and set aside for 10 - 15 minutes

Melt chocolate with a one tsp of coconut or olive oil using double boiling method. Allow it to cool.

Sieve flour, salt and baking powder. Set aside in a separate bowl.

In another mixing bowl, dissolve coconut sugar in coconut milk. Add the flax egg, Mix gently.

Mix the melted chocolate and oil to the above wet ingredients. Combine the flour mixture and add the desiccated coconut.

Preheat oven @180c Grease a donut pan

Pour the donut batter into a zip-lock pouch and close the pouch. Cut the tip at one end of the pouch and fill the donut cavities.

Bake @180 for 15 – 18 mins. Allow the donuts to completely cool before applying the glaze

White chocolate glaze - Place all the ingredients in a bowl and using double boiler method melt until pour-able consistency.

Once the donuts are cooled down, dip each donut in the glaze. Allow the donuts to cool completely and serve.
Notes
1. You can use completely coconut oil instead of olive oil.
2. Allow the donuts to cool completely before flipping it from the donut pan. Since almond flour is used, it needs to be completely cooled down otherwise, the donuts may tend to break when they are hot.
3. Unlike dark or milk chocolate, white chocolate tends to melt very quickly. So watch carefully when melting it.