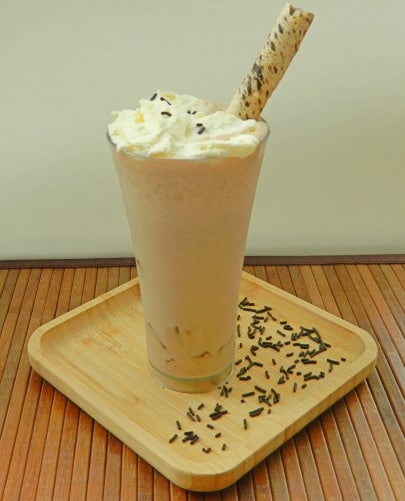 Cocoa Jelly Peanut Butter Milkshake Using Kalya Cocoa Powder
17 August, 2018
Cocoa Jelly peanut butter milkshake is made using cocoa jelly, peanut butter and vanilla ice-cream as the main ingredients. Peanut butter and cocoa is always one of the delectable combinations. This is quite different from regular peanut butter chocolate milkshake as cocoa jelly is used instead of chocolate. The specialty of this milkshake lies in the inclusion of cocoa jelly made using Kalya cocoa powder. The jelly by itself is a wonderful dessert! Kids would love this cold beverage, relishing their favorite jelly. This cocoa jelly is completely vegetarian as it is made using Agar Agar.
Ingredients
Cocoa Agar Agar Jelly:

1 1/8

Cup

milk

1

¼ tablespoon Agar Agar powder

¼ cup water

5

tbsp

Kalya Cocoa powder

½ tablespoon corn flour

2

¼ teaspoon oil or butter at room temperature

½ cup sugar

½ teaspoon vanilla extract

Cocoa Jelly peanut butter milkshake:

¾ cup milk

chilled preferably

3

small scoops of vanilla ice cream

2

tbsp

peanut butter

3

tbsp

+ 2 tablespoon cocoa jelly

Whipped cream and chocolate sprinkles for decoration

optional
Instructions
Cocoa Agar Agar Jelly:

Heat till the milk comes to a boil.

Simmer the flame and add cocoa mix & oil.

Mix until well combined and add vanilla extract.

Meanwhile heat in low flame, the agar agar mixed in water until it is melted.

Turn off the flame.

Place this pan inside the fridge for 4 to 6 hours to set well.

Cocoa Jelly peanut butter milkshake:

Take the serving glass and place 1 or 2 tablespoon small cubes of cocoa jelly at the bottom. Refrigerate it until the milkshake is prepared.

Take peanut butter and milk in a blender; blend well.

Add vanilla ice cream and three tablespoon of small jelly cubes.

Blend this mixture and pour into the prepared serving glass.

Serve this milkshake topped with whipped cream and chocolate sprinkles.
Notes
1. The preparation time includes the setting time of the jelly.
2. The recipe for chocolate jelly is sufficient to make 5 to 7 servings of the milkshake.
3. The recipe for the milkshake serves one. Hence increase the ingredients proportionally for as many servings as required.