Chocolate Rich Fruit Cake
Yield / Serves
4 Servings
A rich chocolate fruit cake is a must bake during Christmas and throughout the year as well 😁
Fresh orange juice 1/2 cup
Orange marmalade 2 tablespoon dissolved in 1/4 cup warm water
Organic Brown sugar 3/4 cup
1 tsp mixed spices (mix of mace, nutmeg, cinnamon,ginger,clove)
Chop the mixed dry fruits ( raisins, apricots, dark raisins, walnuts, dried cranberries, tutti frutti, kiwis, cashew,dried figs, almonds, dates) and place them in a jar.
Add fresh orange juice, Orange marmalade mixture, Orange zest and lemon juice. Mix everything well. Keep them soaked good 24 hours in refrigerator.
In a non stick pan, add the soaked dry fruits along with the juice,sugar, spices, oil and cocoa powder.
Stir and bring it to boil. Simmer for 5 to 10 mins with occasional stirring
Turn off the flame and use it when it's of bearable warmth.
Sieve the flours, almond meal, with baking powder, soda and salt 5-6 times.
Beat the eggs and add them to the fruit mixture, mix them well.
Fold the flour into the wet ingredients in batches, mix everything well until well combined.
Pour this is in parchment lined baking tin, this cake gets baked for a longer time so there are chances of it to stick to the bottom.
Bake at 150 degrees for 50 minutes to 1 hour.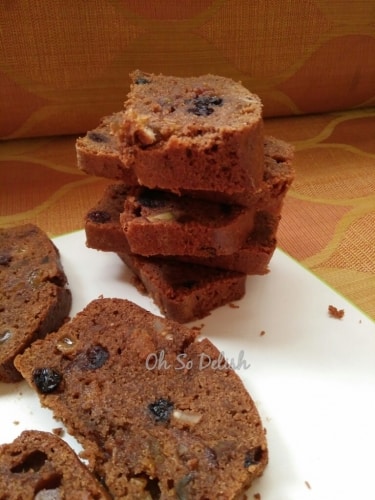 You can use any dry fruits of your choice.
Keep the cake in the oven for 15 minutes after turning it off and then in the baking tin for another half an hour before demoulding
How useful was this post?
Click on a star to rate it!
Rated 4 based on 2 votes
Be the first to rate this post.