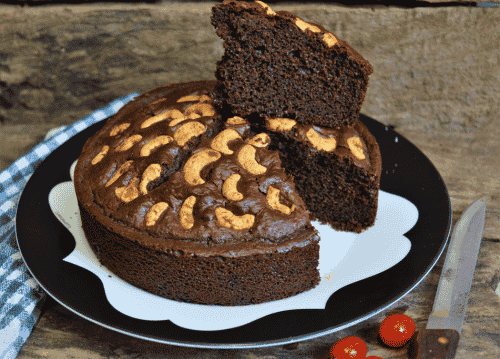 Chocolate Nut Cake
10 April, 2017
This chocolate nut cake is healthy as well as delicious. You can have it totally guilt free. It is made up of healthier flours, sweetener and fats. Do check out this interesting recipe.
Ingredients
Whole wheat flour – 1/2 cup

Barley Flour – 1/2 cup

Cocoa powder - 1/2 cup

Baking powder - 1 and 3/4 tsp

Baking soda - 1/4 tsp

Salt - 1/2 tsp

Eggs - 2

Powdered Jaggery - 1 cup

Vanilla essence - 1 tsp

Oil - 1/2 cup

Milk - 1/2 cup

Cashew nuts

split – 1/2 cup
Instructions
Sieve and mix all the dry ingredients, that is, wholewheat flour, barley flour, cocoa powder, baking powder, baking soda and salt.

Whisk together eggs, powdered jaggery, vanilla essence, and oil.

Add dry ingredients and milk alternately in the wet mixture and beat well. For each beat, start and end by adding dry ingredients.

Preheat the oven to 180 degree centigrade.

Grease a cake tin and pour the batter.

Slightly dust the cashew nuts in little flour (Take 2-3 tbsp of extra flour in a small bowl and coat the nuts with the flour).

Place these nuts on top of the batter carefully.

Bake for 35-40 minutes, until a toothpick inserted comes out clean.

Allow to cool, and then delicious and healthy cake is ready..!!