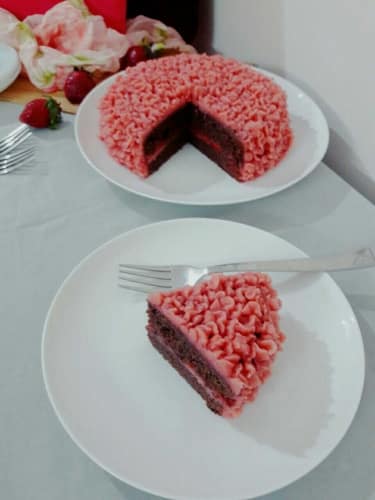 Chocolate Cake With Strawberry Buttercream Frosting
The luscious eggless chocolate cake with strawberry buttercream frosting is a perfect dessert for Christmas.
Ingredients
For Chocolate Cake: 1 cup all purpose flour

100

gm

butter at room temperature

250

gm

sweetened condensed milk

3

tbsp

cocoa powder

1

tsp

baking powder

1/2

tsp

baking soda

1

tsp

vanilla extract

1

tsp

vinegar

1/4

cup

warm milk

Fo Strawberry Buttercream frosting: 1 cup butter at room temperature

2

cup

powdered sugar

1/4

cup

strawberry sauce

1

tsp

vanilla extract

2

tbsp

cream

1-2

drops of Red liquid food colour

optional

Few fresh strawberries
Instructions
Grease a round baking cake tin of 9×9 inches diameter with oil and preheat the oven at 180 degrees celcius.

In a bowl take butter which should be at room temperature.

Add sweetened condensed milk to it and beat till it is light and fluffy.

Next sift together all purpose flour, cocoa powder, baking powder, baking soda and mix everything well.

Next add vinegar, vanilla extract, milk and beat again to form a smooth lump free batter.

Pour the cake batter in greased tin and tap the sides of the cake tin.

Bake the chocolate cake in a preheated oven for 35 minutes. Do check the cake after 30 minutes as the temperature vary from oven to oven.

Once done check the cake with a toothpick. If it comes out clean the cake is perfectly baked.

Let the cake cool down completely meanwhile make the strawberry buttercream frosting.

For frosting: In a bowl take butter which should be at room temperature.

Add strawberry sauce, half cup of powdered sugar and beat on medium speed till well combined.

Again add powdered sugar and beat again till well combined.

Repeat the same step of adding half cup powdered sugar two more times.

At last add vanilla extract, cream and beat till its smooth and fluffy. The frosting is ready.

Assembling of cake: Cut the cake in half, spread a layer of frosting over the cake.

Keep another layer of cake and cover the whole cake with the frosting or you can also decorate the cake with the help of pipping bag using any nozzel design of your choice.