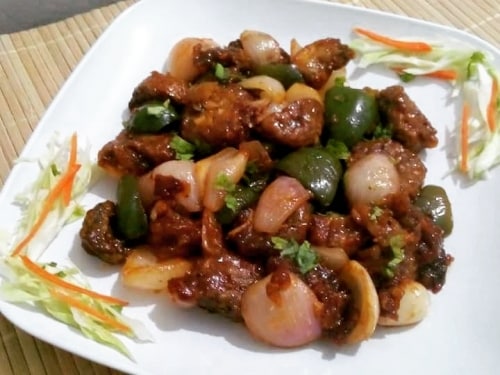 Chilly Mushroom
3 February, 2017
Resturant style indo-chinese starter that's crisp, sweet, sour and spicy.
Ingredients
250

gm

Mushrooms

1

medium Onion cut in squares

2-3

green chillies cut lengthwise

1

capsicum cut in squares

7-8

garlic cloves finely chopped

1

inch

ginger chopped

4-5

tbsp

tomato sauce

2-3

tbsp

green chilly sauce

1/2

tsp

soy sauce

Black pepper as required

Salt to taste

Oil for frying mushrooms and cooking

For the batter: 5 tbsp maida

3 tbsp cornflour, pinch of salt, 1/4 tsp black pepper and water as required to make the batter.
Instructions
Rinse and wipe dry the mushrooms. Trim the stalks and half them.

Make a medium consistency batter with flour, cornflour, salt, pepper and water.

Heat oil in a kadai. Dip each mushroom in the batter and coat them uniformly with the batter. Fry coated mushrooms in medium hot oil till golden and crisp from all sides. Once done keep aside.

Heat oil in another kadai add onions stir fry for a minute. Now add ginger, garlic, green chillies saute for 1-2mins. Next add the capsicum saute for 2-3 mins make sure the crush of capsicum is maintained.

Next add salt, pepper along with soy sauce, tomato sauce and green chilly sauce then add the fried mushrooms and mix it well cook for another one minute. Garnish with finely chopped coriander leaves. Serve hot. Happy Cooking!!